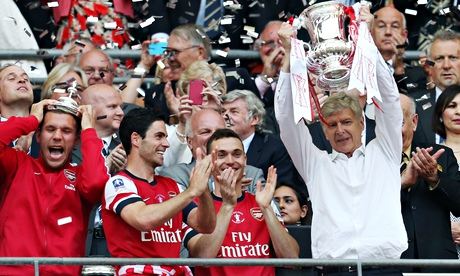 It has been announced that Manager Arsene Wenger is expected to sign a new 3 year deal this week with an added incentive of a £100 million transfer kitty. After the incredibly emotional performance on Saturday evening which saw Wenger ended 9 long and hard years without silverware now is the time for the club to push on. Whether you are an advocate of Wenger or not one thing everyone can agree on this is the point now that the club has t0 show real ambition. Previously after winning a trophy Wenger has made the mistake of settling with what he has where others have gone and added substantial depth.
There are many things to look at in the Summer, an emotional Bacary Sagna at the weekend claimed there still has not been any solution to his contract dilemma, he has rumoured to have been offered a new 3 year deal at £90,000 a week which is an unprecedented move from the club, this is probably a take it or leave it scenario for Sagna who looks like moving to Premier League rivals Manchester City. Lukas Fabianski has admitted that he will be leaving for first team football which many expected, to play the last games of the season could have been a subtle ploy from Wenger to say to him he is still wanted but he is clearly the clubs no.2 and anyone couldn't begrudge him a move.
Player additions are much needed priority is obviously a striker with the club being linked with Mario Mandzukic (Bayern Munich), Karim Benzema (Real Madrid), Wilfried Bony (Swansea City) and impressive Real Madrid starlet Alvaro Morata who scored twice at the weekend. Another problem position for us this season has been in defensive midfield this is a problem that has not been addressed for years since the likes of Gilberto Silva and Patrick Vieira. The has been a lack of a combative personality in that department Mikel Arteta has been doing a decent job while the job being alien to his talents. Matthieu Flamini has been a success there but to succeed in a title race there just has to be more. In recent weeks the club has been linked with Lars Bender (Bayer Leverkusen) and Javi Martinez (Bayern Munich) both of these names would fit the bill and be well worth their price tag.
Then it is down to replacing the contract rebels, with Sagna likely to leave that is going to leave a big hole at right back and lets not forget he was also covering centrally for parts this season so you would think there may have be two defensive signings in the Summer, Calum Chambers (Southampton) has definitely caught the eye this season and also Serge Aurier (Toulouse) we already know Wenger is a keen admirer of his abilities and he has shown he has the quality going forward. One name that has not been mentioned is Micah Richards who looks surplus to requirements at Manchester City and he would be a very good addition to the squad as he can play anywhere within the back four and could possibly not carry much of a transfer fee.
Lukas Fabianski leaving on a free along with Emiliano Viviano (Palermo) will return to his parent club after not impressing on his loan period, what the club really needs is a no.2 to push no.1 Wojcech Szczesny and keep him on his toes. it was well documented in 2012/13 when the Polish no.1 was dropped by Wenger and that helped him massively and he has found his feet again this season. Kasper Schmeichel is a name that has been linked and would be a worthy contender in my eyes the Dane has kept 20 clean sheets in 44 games this campaign for newly promoted Leicester City but is out of contract is believed to be looking at his options.
There may well be replacements to be made with the back room staff former Wimbledon Manager Terry Burton has left his Chief of youth development position to be Technical Director at West Brom and word on the grapevine is that Steve Bould is a candidate for the vacant West Brom manager's position. Wenger has always believed in promoting from within so he is likely to look at maybe Boro Primorac who has been there since March 1997 before that he worked with Wenger in Japan at Nagoya Grampus. Primorac is currently a first team coach and has a defensive background like Bould so any good money would be on Primorac succeed Bould if he indeed decides to step away from the Emirates.
Expectations for next season should be high with an improved spending budget a new trophy in the cabinet which will breed confidence in the club, another season of Champions League football and not forgetting only finishing 7 points of the eventual Premier League winners the future Should be bright.
Thanks for reading
@goonerscribe