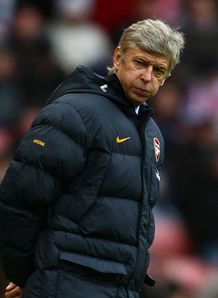 Apart from the fact that wenger didnt sign players last summer, our main problem this season have been poor tactics.
Recently Wenger has played Diaby on the left wing and Nasri as a defensive player?
Why not the other way round ?
Diaby could do a decent job in the middle IMO and Nasri is a waste in a defensive role.
And why are we now playing 4-5-1? RVP is being wasted and so is Cesc?
Whats wrong with playing 4-4-2?
We went 49 games unbeaten and won the double playing 4-4-2 with wingers. Why has wenger now changed our style?
Song is being used as a DM player but in 3 games using Song as a DM we let in 11 goals. 4 vs Liverpool, 4 vs Chelsea and 3 vs Man Utd.  I'm sure Yaya Toure would do a good job for us, but I don't see why Wenger would pass up 2 or 3 opportunities to buy him for pennies, only to buy him from Barca for £15m a few years later.
Wenger has made some baffling decisions of late….Arshavin on the bench vs Chavs being a prime example. Just complete lunacy to have arguably our best player sitting on the bench when he's ineligible for the Champions League as well. What's the worst that could happen? We could lose the game……oh wait, we did.
Wenger has been so negative this season with the tactics and in a way i'm glad we got beat by the Chavs last wk end, otherwise Wenger would have used the fact that we ended the season with 24 games unbeaten to jusify a lack of summer signings. Now he he simple has to spend in the summer.
But maybe wenger will give us that old chestnut about how Senderos and Rosicky will be back and they will be like new signings.
Why not? He has done if before.
its going to be a long summer..
See you on the forum……
SINBAD
www.arsenalaction.com