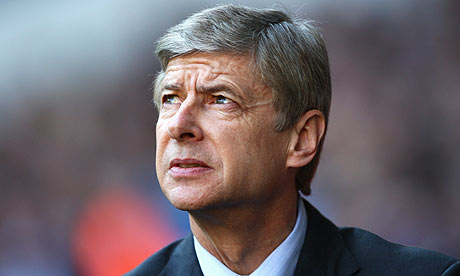 Arsenal manager ARSENE WENGER insists he is not a tight with the clubs money, and says he just has not got the money to compete with the likes of Manchester United, Manchester City and Chelsea.
The Arsenal manager is sick of hearing he has the cash but will not splash out in the transfer market because he is too tight.
Instead, Wenger  has revealed for the first time Arsenal do not have a shedload of money sitting in the bank and fans should understand the balancing act he is forced to do as he juggles success with budgeting.
He said: "I'm fed up with people who think I have £100million in the bank yet don't want to spend it. How can people think that?
"The pride of the club is in having moved to a new stadium, while maintaining the team at the top level."
Wenger will not chase a player if he knows United or Chelsea are also interested as he knows he will get blown away by the fees they can offer.
Instead, he tries to sign players like Cesc Fabregas who are young and hungry, polishing them into world-class performers with the Gunners' board rubber-stamping the way he goes about his transfer business.
He also rejects suggestions that the squad needs a massive overhaul.
He said: "We cannot pump £100m into it, so we must keep faith in what we are doing as I believe this team does a lot of things right.
"It does not need to be transformed. When you go on a long unbeaten run in the Premier League and reach two semi-finals, as we did last season, common sense tells you that.
"This team is now much harder for people to handle than last September. The future looks bright.
"But I want to add to the squad and I have identified one or two targets. However, identifying players and buying them are two different things!"
Arsenal finished fourth in the last campaign and Wenger knows that big-spending City will pose a threat next term.
He added: "You can expect them to spend a lot of money so they will be going for it too.
"There is no guarantee the top four will remain the same."
Join our forum www.arsenalaction.com