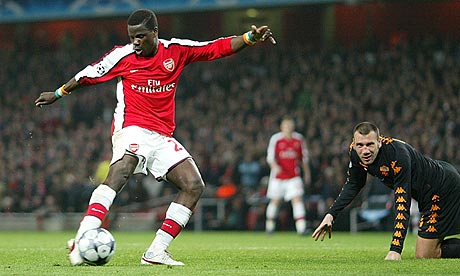 Some people say i am anti wenger and not really an Arsenal fan because i have spoke out and criticised Wenger recently over his transfer policy and lack of spending.
However….
I would like to praise the arsenal manager today who got the tactics bang on the money last night.
For me the decison to drop Sagna and play the more attacking Eboue was a master stoke and helped win us the game.
When teams come to The Emirates they tend to play one up top and hit us on the counter attack, So do you really need 4 players at the back marking one man? Of course not.
Wenger used the more attacking player in Eboue back in his best position at right back and for me Eboue was MOTM bombing down the right and giving us something we have not had this season, Direct pace on the wings.
For me Sagna is a better defender then Eboue at RB but he gives very little going forward. The totaly opposite to Eboue who is better going forward and not so great defending.
Wenger got it right last night and i think we might see Eboue play more games in the CL at HOME at RB.
Of course when we are going to play a more attacking side away from home it will be Sagna back at RB.
But i take my hat off to Wenger this time for thinking about something new and it worked a treat.
Sinbad
www.arsenalaction.com
Join the forum (HERE)