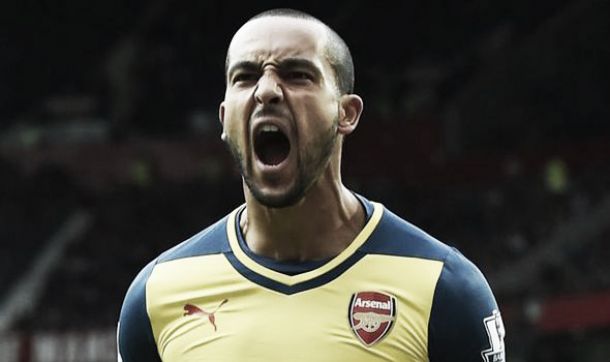 It used to be the case that every season there was a contract saga just waiting to unfold at Arsenal, it now looks like this Summer's big story will be the undetermined future of England winger Theo Walcott
Walcott still has a year to run on his contract and Arsenal don't seem to be in any real rush to tie the 26 year old down immediately, one reason for that could be Walcott's ongoing injury problems which have seen him miss a lot of game time this season.
The England winger has been coy on his immediate future
he said: "I can't give you an update on the contract situation.
"I just want to continue playing my football and we will see where it takes me at the end of the season."
The former Southampton winger hopes to end the season on a high with Arsenal just one point from clinching third spot in the league and a FA cup just around the corner.
"We want to get as many points as we can and we want to have confidence going into the FA Cup final," he said.
"The most important thing is to win that and for me personally, to actually be involved this time after missing it last year would be a great achievement for me.
"Of course (it's been frustrating). Any player wants to play. I want to play. I have been out for a long time.
"The manager was patient and I have been patient myself. But when given the opportunity, I need to be ready and focused at all times because it is not just about the starting line-up, it is about the whole squad.
"It worked for me at Old Trafford. It was a bit of a break and I am very happy. I have been training very well and that's the best I can do to impress the manager.
"When given the opportunity in a big game and a massive arena like Old Trafford, it is not going to do you any harm."
It is a good sign that Walcott seems determined to be looking forward to next season at Emirates.
"It is a step forward from where we finished last year," he said.
"But we want to – and need to – be pushing on now and trying to challenge for the title. There was an opportunity in the season when we were getting close to Chelsea and people were taking about us competing.
"But I sensed throughout the dressing room that we were never quite up there with Chelsea."
It remains unclear whether Walcott will agree an extension to his current deal or whether next season will be his last in an Arsenal shirt, this will be the last big contract he is likely to sign so he will most certainly be weighing up his options a lot more than he did two years ago.