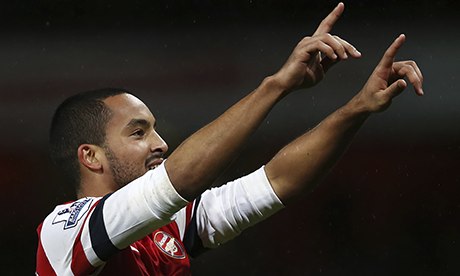 It was an image that many Arsenal fans had been waiting for. The winger damaged his cruciate knee ligaments in the FA Cup victory over North London rivals Tottenham last January. Some expected him to play some part against Sunderland but thankfully he was not needed, the last thing that Arsenal or Walcott need is him being rushed back too earlier and having a further injury setback.
It is uncertain when exactly Walcott will take to the field in an Arsenal shirt again but you would assume it will be sooner rather than later, he is 100% fit physically but Wenger has doubts about him mentally.
"He has to get used to contact again," Wenger said. "He has been out for nine months, it was a big injury. It takes time to settle and get used to being kicked again. He has a game that exposes him and he needs to feel completely confident. He is not far. Fitness wise he is there to play a part in the game, but on the contact front, he needs a bit more time."
"Theo is a very polite and social guy but he is as well behind that mentally very strong. What he has gone through the last nine months, you gain even more respect for him. He has had some difficult times. He has a young baby, they had some problems after, he has done very well."
Before his injury last campaign Walcott was an invaluable asset and in a purple patch of form to say he has been a monumental miss so far this season would be the understatement of the century. His electric pace is unplayable and with the likes of Alexis Sanchez and Alex Oxlade-Chamberlain also with real pace to burn Arsenal would be in very good shape going forward.
Before his injury last season Walcott had scored 6 goals in 18 games in all competitions.