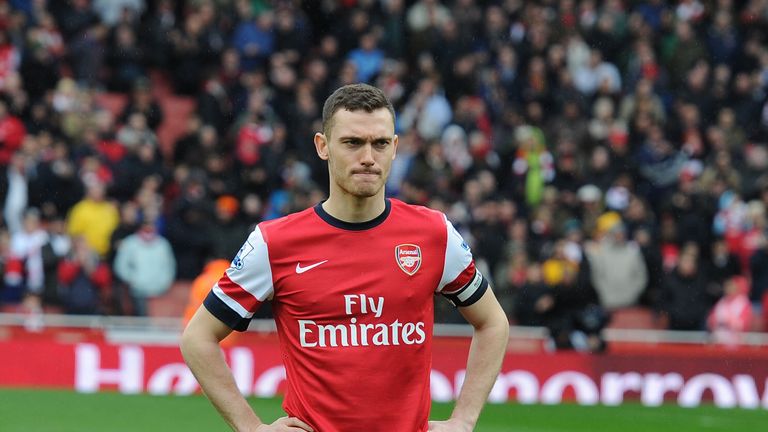 Yesterday a bid of £15 million was accepted for Captain Thomas Vermaelen from Catalan club FC Barcelona. The Belgian is expected to fly to Spain over the weekend to complete a medical and negotiate terms. This looks a done deal and one that the club were holding out on. Vermaelen who has been fit all summer was not part of any pre season with the club so alarm bells were ringing when he was not even on the bench in last weekends Emirates Cup.
It was widely reported that Manchester United had been favourites to sign TV5 ( as he was fondly known) but with Arsenal not wanting to sell to a "rival" Barcelona were always the preferred option. This just makes perfect sense to cash in. Vermaelen was never going to sign a new deal in fact one had not even been offered so he was surplus to requirements in Wenger's eyes. The Verminator is now 28 years of age, has become injury prone and also is entering into his final year. £15 million for a player that had turned into a bench warmer over time makes perfect business and football sense.
Vermaelen has followed on from previous Captains that have left the club in recent years namely Cesc Fabregas and Robin van Persie, whom now both play for rival clubs a trend that needs to stop. It is almost written in stone that Per Mertesacker will become Vice Captain and Mikel Arteta will be promoted to Captain. I have never been one who has given much thought to who should be captain. If you look in Italy they always give it to the player who appears more senior than their team mates. What counts is having leaders on the pitch and that is something Arsenal have lacked for a while.
So who will Wenger turn to now?
Le Boss said a few weeks ago if Vermaelen leaves (which basically meant when) he will replace him, he sounded very confident so he clearly has a few names. Mats Hummels would be top of my list, Dortmund are rumoured to be open to offers north of £20 million which would be a bargain. Hummels was ever present for Germany in their World Cup triumph and also has a very good understanding with Arsenal fan favourite Per Mertesacker. Another idea is that with the "need" for a defensive midfield general that Wenger will sign a player that can play Centre back and Defensive Midfield. William Carvalho is a name that just won't go away. Arsenal have already had a bid rejected by Sporting Lisbon a fortnight ago and it seems Wenger is keen. My worry is that he does not have the pace to cover the ground needed. Another thing that has confused me with the interest in Carvalho is that Wenger notoriously doesn't like out and out defensive midfield players he likes players that can rotate and are comfortable in all areas of the pitch something that Carvalho is not. Finally, Sami Khedira. The German Midfield man has been seeking a way out of Madrid for what now seems an eternity ( in transfer window terms anyway). A fee has reportedly been agreed between Arsenal and Real Madrid but the player's wage demands appear to be a stumbling block in any deal. Khedira is looking for in the region of £150,000 a week unbelievably that is less than his original demands of £200,000 a week. Wenger has always said that the club has a plan and he has always said that he has a value in his head for everyone at the club and any targets. Sanchez who recently signed a deal which will see him pocket £130,000 a week this made the Chilean the highest paid player at the club it would seem from the outside that Wenger is looking for a very similar agreement with Khedira.
The departure of Vermaelen could also be a huge boost to new arrival Calum Chambers who in his first days of being an Arsenal player already looks like the real deal. He can play in a multitude of positions which will only benefit the team. Many see Chambers as dare I say it "the new Tony Adams" I see him as much more than that. He has more to his game. Adams was a commanding figure and will always be seen as an Arsenal great but Chambers is by no means just a defender. He can play Right back, Centre back, defensive midfield aand even as a winger.
This summer's pre season has been something of an inspiring one, for too long now Arsene Wenger and the board have been bystanders in the Transfer Market. Wenger looks rejuvenated this season and looks up for the fight something many fans have rightly questioned in recent seasons.