So in the end you would have to say overall that we had a successful season although a topsy turvy one at that, achieving another Champions League qualification for next season along with securing our first piece of silverware in 9 very long years by bringing home the FA Cup which ironically was the last piece of silverware we won in 2005. So what now? there appears to be a new contract that will be signed sometime in the near future. Wenger was expected to sign a reported 3 year extension a couple of days after the FA cup triumph while the parade memories were still vibrant. Le Boss has said on numerous occasions even after the Wembley success he is staying so you would expect this to come very soon.
The board have intimated  that £100 million+ will be made available to strengthen the squad which is very good news, with the club now in a hugely different financial situation than they were in 2005 (no stadium debt) a new Puma deal as well thrown into the mix there are now no excuses it is about intent and ambition it is now time the club showed a bit of both.
The club has been linked with several exciting names in the last few days but it is important to remember the signings need to be wise, no panic buying is needed here, we finished just 7 points off the top, what is needed are replacements for Bacary Sagna who is virtually a Manchester City player and Lukas Fabianski who is leaving for First team football. It looks like the hot favourite to replace Sagna is Toulouse Right back Serge Aurier who I would say is perfect. Regarding a replacement for Fabianski your guess is as good as mine.
I would say 3 big signings would be enough to push us further than last season and make us serious contenders we have a foundation of a resolute and strong squad now it is time to maintain and build.
Arsene Wenger is expected to mount a raid on La Liga this summer these would be my top picks:
 Cesc Fabregas
It looks like Cesc is surplus to requirements under new boss Luis Enrique who when asked about him said 'In principle, we have not taken any decisions like that because we still have time,' to me that is nowhere near saying he is not for sale, add that to the exclusion of Fabregas from Barcelona's recent promotion. There are also stories circulating the Spanish press saying a bid in the region of £35 million would be "very difficult to reject". For me this would be great for Cesc returning it would be great to see him in the red and white again. With an aging Arteta who lest not forget was bought as a cheap alternative to Fabregas (very cheap in my eyes) you could say this would be a no brainer. They do say that you should never go back but just take a look at Flamini if Cesc returned with the same desire the little Frenchman has shown any of his critics will soon change their mind. I can already see Fabregas playing deep in that Arsenal Midfield alongside our player of the season Aaron Ramsey that would be a match made in heaven.
Alexis Sanchez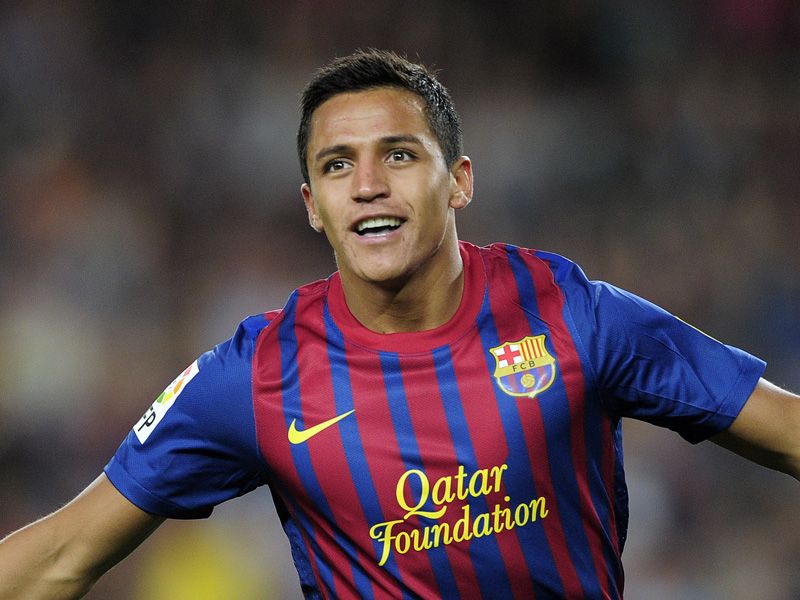 The Chilean forward looks to be in the same boat as the aforementioned Fabregas, he was also excluded by Barcelona in the latest photo opportunity and has looked frustrated at times this season and may be looking for a new challenge in a new league. He has had his critics in La Liga in the past couple of seasons I would have to put that down to the coaching and not the player. For one reason or another things have not quite worked out for him at Camp Nou. One major problem could be the interest shown by Italian giants Juventus who are keen in taking the Chilean back to Serie A, this would also see him pair up with International teammate Arturo Vidal. Serie A is where Alexis first really made his name at Udinese where he spent 5 years learning his trade and scoring 20 goals in 95 appearance. It is on the International stage where Sanchez has impressed me most he is a typical South American who plays with desire and passion and that shines through when you see him play for Chile as you will again witness in Brazil this Summer he has scored 22 goals in 65 games for his national side.
Antoine Griezmann
The Real Sociedad and French winger is quite a talent with many clubs having shown interest but none have managed to prize him away from the Spanish side. Griezmann is an exciting winger and has been named in Didier Deschamps France squad for the upcoming World Cup in Brazil this summer and I for one hope he features heavily. He is still relatively young but is already showing signs of filling his massive potential.  He is the type of player Arsenal have lacked this season with the absence of Theo Walcott, he is quick, skillful and very direct. Speaking back in March "We are following him [Griezmann] in great detail. He attracts other clubs as well but we follow him, he is a known commodity." said Wenger who is a keen admirer of the Frenchman.  Griezmann is understood to carry a fee of around £18 million which is absolutely nothing for what he would bring to the table.
Thanks for reading.
@Goonerscribe