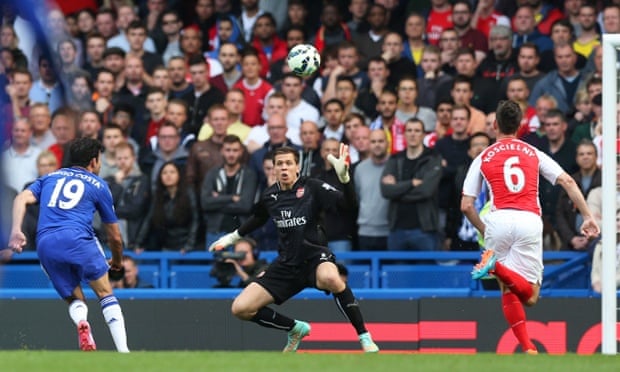 Going into yesterday's grudge match at Stamford Bridge many Arsenal fans were expecting the worst. Arsene Wenger was determined to avoid a repeat of last season's 6-0 annihilation at the hands of Chelsea,what was to occur was only an improvement in the scoreline and not much else.
There were a few glaring tactical mistakes again from Wenger, Once again he played a 4-2-3-1 system which made sense but it is how he used the players at his disposal that left many bewildered. Mesut Ozil started right wing much to many fans frustrations, The German attacking midfielder had started his previous 3 games in his familiar supporting striker role or No.10 if you would prefer, he had been had his most effective and was a contender for man of the match in each of those games. The exclusion of Oxlade-Chamberlain was another strange decision, he was fantastic against Tottenham and was much the same against Galatasaray midweek. As was the case last season and still remains this campaign Arsenal look easy to bully which ended up being the case at Stamford Bridge, Eden Hazard ran the show and was a constant threat that Wenger's men had no answer for. On 27 minutes Hazard ran at the heart of the Arsenal back four beating 3 players before Laurent Koscielny conceded yet another penalty in an Arsenal shirt, Hazard dusted himself off and dispatched with aplomb, sending Szczesny the wrong way. It was a relatively tight game in the first half with very few opportunities.
One major concern was that Hazard was allowed to carry the ball such a distance before a challenge was made, Chelsea's first goal highlighted the need for a powerful defensive midfield man, a destroyer, which is something Arsenal just don't have. Flamini was tasked with that role and once more in a big game the occasion was too much. This will once more raise question as to why no defensive midfielder was bought in January when it was perfectly clear that should have been a top priority but once more it has not been addressed.
Chelsea's second was embarrassing from a defensive perspective, ex Arsenal man Cesc Fabregas lofted a straight ball over Per Mertesacker and the relatively quiet Diego Costa lifted the ball over an on rushing Wojcech Szczesny to round off a comfortable Chelsea win, Mourinho's men were never in any real danger. Arsenal had a few long range efforts but never troubled Cech who didn't even make a save.
Things got heated on the touchline between Arsene Wenger and Jose Mourinho in the first half which is something new for Wenger, fans will be happy to see a bit of passion something that he has not shown in years but he once again was a cut of a frustrated figure, once again this will go down as yet another loss away to a top four side another loss against Mourinho.
During the game some pundits were suggesting that Wenger had tinkered with this tactics for the visit of Chelsea, if he did I didn't notice, apart from playing Ozil as a winger it looked same old tactics and same old predictable performance. Danny Welbeck was isolated and very rarely in the right position due to having to help mainly Ozil in wide areas. There were too many gaps in midfield and Chelsea exploited them, as soon as Arsenal went 1-0 down, you would have to fear the worst. The only thing that can be taken out of this performance was the little bit of spirit that was shown, that doesn't amount to much because once again there has been nothing to show for it.
The Premier League takes a break, Arsenal's next game is at home to Hull City on the 18th october and a win is a must. Chelsea have already opened a 9 point gap over Arsenal and a 5 point gap at the top of the league, it is looking ominous for the rest as many falter Chelsea just keep marching on to the next, the Stamford Bridge loss resulted in a poor weekend which saw Arsenal slump to 8th falling behind even West Ham if this isn't a wake up call that performances have not been anywhere near good enough then i'm not sure what would be.
Yesterday's loss could have been worse for sure, but how far has the club fallen if the attitude is "well at least it wasn't 6-0" where has the ambition gone? it wasn't too long ago that Arsenal were expected to go to Chelsea and Manchester City with a winning mentality but now there is an air of predictability and resignation about the big games.