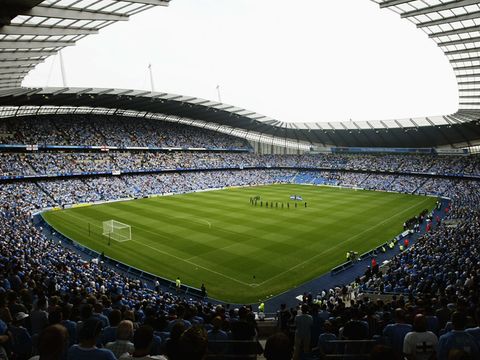 Saturday, 12 September 2009
Barclays Premier League
Man City v Arsenal, 15:00
by citytop4 » Man City fan and member of Arsenal Action Forum
I've been asked here to add a comment on the upcoming game between our two great clubs by one of your own. I'll try and be as impartial as i can.
Anyway. When Wengers Arsenal roll into town. You know you're in for a great game of football and, Whatever the outcome, This match up is promiseing to be a real belter. Two teams who can both produce an awsome forward line and midfields capable of picking the toughest of defences. And who's defences have both come in for some criticism from pundits, rival fans and the media. But are both a lot stronger than these people give credit for.
But let's look at the facts:
First off Arsenal
A great start to the season with the demolition of a very sad and shaken looking Everton, another win against Pompey and what i can only assume is a very frustrating defeat against Man U, Who you outplayed in every area of the park, Only to get victory snatched away from you with a Penalty and an own goal. So you guys will definately be coming to Eastlands with a point to prove. That you are true tital contenders. Which, ofcourse, you are. Added to that Qualification to the Champ League proper. And all in all (Dodgey Man U result and some crazy Uefa ruling aside) A fine start to the new season. In fact i would probably say at this early stage of the season your lads are probably playing the best football in the league. Along with Chelsea.
As For City
To be honest we are all still in dreamland a bit. You have to remember for the majority of the 90's and the early part of the new Millennium, we have been a "yo yo" club. Constantly shifting between the best team in the Championship, to a poor prem league side. We always thought our great club deserved more than this. But we could never have even dreamed we would ever come this far. So far we have bought players the likes of which i never would have believed would turn out in a City shirt (no matter why they signed) and we lie 4th in the league with a maximum 9 points out of 3 games, With 3 clean sheets. And all of our new signings look unbelievable. Especially Toure, Barry, Adebayor and Given. Our performances so far have looked very promising. Sometimes when we go forward we look nothing short of terrifying. Add to that the fact we have the second best home record in the Premier league for the past two seasons. Just behind the Champions (GGRRRRR) Man u..re.
As for the game itself
Ofcourse the main focul point will be on how well the two former Gunners will perform against their old club. And i honestly believe they will be magnificent. Toure has just been handed the captains armband on a perminant basis. And i think Ade will be more up for it than anybody else on the field. And with the form he's in, And the overall great play he has shown, I expect him to score at least one goal.
As for your lads the return of Cesc Fabrigas is crucial. He has the abilaty to simply destroy opponents. And if we don't pick him up early. His link up play with Van Persie, Arshavin and Eduardo will make the difference. For me Vermaelan already looks like a world beater. If Wenger gets the best out of that lad he could be a truely world class CB. He and Gallas could make a formidable CB partnership.
All in all i expect a very exciting, Close run, Top notch game. I think the first goal will be a massive factor in this match. Whoever concedes first will be forced to go at their oponents and look for an equaliser. They will then be picked off on the break. City and Arsenal for my money are the best two counter attacking sides in the league.
I see it being:
City 2 Arsenal 1 (Adebayor, Ireland… Eduardo)
Anyway. Thanks for listning to my thoughts. Hope you all enjoy what will be a great match
Nice one chaps
Join the forum ( HERE )