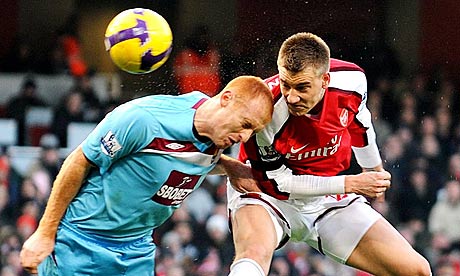 Its going to take another physically gruelling effort from Arsenal to break down West Ham.

Arsenal's run of Hoofball clubs continues as they surge toward the top spot with an affair against West Ham which is sure to be a fiery encounter. These games are tough for us, but we are performing phenomenally well all things considered, and with a few very key players returning, we may even get ourselves a victory that is comfortable in the score line, but which no doubt will be hard fought in the making.
I'm sure we all remember the frustration of throwing away two points to West ham earlier in the season, as we cheaply gave away a victory to West Ham, whose never-say-die attitude secured them a golden point.
The question now begs, are this Arsenal a changed team since then? It certainly seems so, having fought with passion and heart to victories over physically-orientated teams like Bolton, Hull and Stoke and a host of other teams, all having tried to 'get up us' with their dangerous attempts to bully us. But all signs would point that the young Gunners are not a team who will lie down easily anymore, with late…and great victories over the past few weeks securing us 6 wins on the trot.
So what are the relative strengths of each side on the eve of the encounter? At home, at the emirates, I'd have to back our boys to go about their business pretty well. Our fast passing and movement, like usual, is generally enough to bedazzle lesser opposition, but with their size up front, if West Ham come out firing, we could be in for a few problems. We are a team that starts slowly; having only scored two goals within the first 15 minutes of a game all season. If we can keep possession and our composure in the opening stages, frustrating West Ham until they start to push on us too recklessly, then we should be home and dry. Look for a good game from Rosicky; I've got a feeling his punching runs, along with Arshavin obviously, could overwhelm the Hammers.
So how will we win?
Composure; don't rush things in the opening minutes. We don't usually but playing in front of a crowd that could be expecting a big win, we may lose our passing rhythm. The chances will come in droves once the Hammers start to lose their shape, so make sure we take them. Let's hope Bendtner has a good one, as we get very nervous and frustrated with our attack when we are squandering opportunities. Our movement will win us this game, and our opening goal, if I had to make a wager, will come from a run in behind, either Nasri or Arshavin. Take our chances! We are our own worst enemy, as our opposition get their noses up, and our heads drop, when we throw them away too cheaply.
How will we lose?
I can see the early stages of the game being a problem. Zola will set his men up to press us like crazy at the beginning of the game, and not give us an inch. If we give them too much time on the edge of the box, a guy like Diamanti has what it takes to punish us. Also, cheap fouls on the edge of the box could be dangerous; he has a wicked free kick. I would say we are most likely to concede from a set play, with Diamanti's accuracy and Cole's power perhaps causing a problem. If we keep our possession in the opening 10 minutes, and don't get sloppy with our tackles (I'm looking at you, Diaby) then I think it's only a matter of time before we frustrate them out of it.

Size matters not! The Russian Maetsro Arshavin will put the nail in the Hammers.
Key Man Watch – Arsenal: Andrey Arshavin could be the man on fire today, and I'd pick him as the player who will do the most damage to West ham. He is a spectacular footballer, as we all know, and I'm sure his piercing runs, their directness in particular, will overwhelm the West ham defenders. He might bag one or even a couple, as I'm sure he is dying to show how much better his finishing can be. Ebou, if starting at right back, and Walcott, could also be players who terrorise the West Ham defence.
A nightmare night for Diamanti could prove pivotal.
Lets give him nothing to smile about

Key Man Watch – West ham: Diamanti could be a player who punishes us. This guy is so hot and cold, it's ridiculous, but when he's hot, he can be dangerous. I'd say we are most at risk of suffering a pop shot which surprises Alumina, or a deadly free kick from sloppy tackling. Cole could also be trouble, but I think Vermaelen should have the wood on both these boys; The Verminator is just too good.
Likely Team – Arsenal:
———————————-Almunia————————————-
——————————————————————————–
–Eboue—————Campbell—————-Vermalen————-Clichy–
——————————————————————————–
————————————-Song————————————–
——————————————————————————–
——————Nasri——————————–Rosicky—————–
——————————————————————————–
—-Walcott—————————————————–Arshavin——
———————————Bendtner————————————–
I wouldn't be surpirsed if Fabregas starts the game from the bench. I think Wenger will be too nervous that he may flare up his hamstring again before the crunch match encounters of Tottenham and Manchester City. He will probably get a little bit more time to recover, but we may see Rosicky return, otherwise Diaby will take his place. Song's ban has ended so it great to have him back, let's hope he finds a bit of form to own the midfield. Wenger will be looking to build Walcott's confidence as much as possible, so these home matches at the Emirates are perfect; he could have an excellent game, too. I've picked Eboue becuase I think he could do real damage to a team like West Ham. Hopefully he gets a start.
My prediction: 3-0, perhaps 3-1.
Give your account of the game on the Arsenal Action Forum.
Curt.B-