ARSENAL vs  
PORTO
Farcical circumstances determined the outcome of Arsenal's away-tie in their UEFA Champion's League fixture versus Porto, but the Gunners have up their sleeves what could prove to be an all important away goal going into the Home Leg. However, if history were to repeat itself, such an away goal could prove to be redundant, as Arsenal gave FC Porto a right good 4-0 thrashing the last time the visitors came to The Emirates.
The game plan would seem more to Porto's favour this time, as they enter the match with a one goal lead on aggregate, and will be looking for a vital away goal before most likely looking to shut up shop and frustrate the Gunners out of the game. Other pundits suggest that the reigning Portuguese Champions may look to protect their lead for 90 minutes; but looking to park the bus at The Emirates is never a good tactic.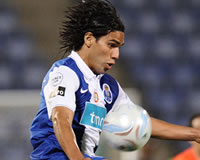 Porto Striker Falcao believes his team have what it takes to cause an upset at The Emirates
Striker Falcao, who netted the winner in Portugal, is confident his team have what it takes to beat the Gunners, although he admits that Porto are underdogs going into the game.
"We are conscious of the team we have and of the capabilities of our squad and we have a strong desire and conviction that we can go through to the next round."
On the eve of the game, let's take a look at the relative strengths of both teams, and the tactics most likely to be employed.
FC PORTO'S GAMEPLAN:
I wouldn't be surprised if manager Ferreira has had his team watching game like Arsenal vs. Manchester United and Chelsea vs. Arsenal from earlier in the season as an example of how his team should play this match. Porto have a lot of pace and they could counter attack dangerously, especially as Arsenal will need to push forward to ensure they score. Although we only need one goal, Porto could play 90 minutes of counter attacking, and we have to be careful not to over-committed; especially at set pieces.
OUR GAMEPLAN:
In the away-tie we saw that our tactics worked pretty well against Porto, and I don't expect we will really need to employ anything different from the way we play our usual game. I don't know a lot about the Porto defenders, but I think the return of Arshavin will obviously be a big boost and his pace and direct running could prove key. We will most likely spend the majority of the game in their half, so we should be careful to make sure we don't get too obsessed with trying to pass it through the eye of the needle, as Porto obviously have a well organized defence, given their teams history both in the competition and domestically. I think our usual game should be enough to bury this match.
How could we lose this game?
I would say the same way we lost to Manchester United; over-committing and getting caught badly on the counter attack. The return of Song may be helpful in keeping our defensive structure, as he is always good at covering when the centre-backs are out of position. Campbell is also back for this game, according to Arsenal.com's announcements, which is great news. The Vermaelen/Campbell combination was excellent in Portugal.
So let's remember that neither of Porto's goals were really deserved last time, and they got very, very lucky. I don't think lightning can strike twice, to be honest, and we should put this one to bed as long as we don't have another shocker. Almunia being back relieves a lot of stress too, as both goals we conceded last game were in no small part due to errors by Fabianski.
Can Arsenal get a result without Captain Fabtastic?
KEY MAN WATCH – Arsenal: I think Samir Nasri will be pulling the strings for us against Porto. The creative midfielder has been put forward by Wenger as the man to deputise in Fabregas' role, and I'm expecting a very good performance from Nasri. He is a player who without a doubt has unbelievable talent and natural ability, but whose has never performed t the highest of his potential. I think he will come into his own in both the Premier League and Champion's League over the next few months, and expect him to turn out a great performance against FC Porto with his great dribbling skills, passing and vision.
KEY MAN WATCH – Porto: Dynamic forward Falcao scored in the first lef against Arsenal, and could prove a problem if given too much space and time. Particularly, El Tigre's speed and pacey acceleratino could work to help Porto on the counter attack. He is an excellent finisher with both his left and right feet, as well, and his record of 23 goals in 29 game sthis season speaks for itself.  In saying this, it would also be wise not to put the performance of Brazilian goalkeeper Helton in the first leg out of mind. Helton had an excellent game, and if he continues with that form, he could make Arsenal's night a lot harder.
The Lineup:
I'm predicting a similar lineup to the one that turned out at Burnley. We looked creative in the 4-1-4-1 formation, and I think Wenger might go with this again. Of course, given Bendtner poor game, he may opt to go back to 4-3-3/4-5-1, but I think the Dane has the manager's vote of confidence to continue alone up front. I think he will have a good game, too, and might bag one or two.
——————————————————Almunia—————————————————————
——————————————————————————————————————————–
——–Eboue——————–Campbell———————-Vermaelen————————Clichy————
——————————————————————————————————————————–
——————————————————–Song——————————————————————
——————————————————————————————————————————–
——————————————————————————————————————————–
——–Walcott——————–Nasri—————————Rosicky————————-Arshavin———-
——————————————————————————————————————————–
————————————————–Bendtner——————————————————————-
———————————————————————————————————————————
I like the Arshavin/Rosicky/Nasri combination, and think that this trio are one of the most creative in world football. Its great to have them all fit again, and hopefully they will appear in the starting lineup. The quick movement, dribbling, fast interchange passing and dropping into space should be too much for Porto to handle. They will be key to the win.
All the best for the game, everybody, and make sure you have your say on the forum before kickoff. I'll be back with the post-match report as soon as possible, and hopefully with an Arsenal win to write about!
Curt.B