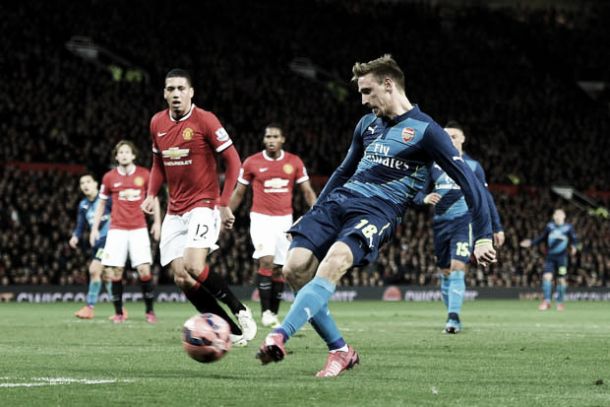 Nacho Monreal is expected to start in Saturdays FA cup final, the Spaniard revealed his feelings about last years triumph.
Monreal was an unused substitute in Arsenal's cup final win againstHull City last year and could just watch from the stands as his side conceded two goals in eight minutes to Steve Bruce's side.
Arsenal showed spirit to fight back and win 3-2 in extra time thanks to anAaron Ramsey strike, much to the relief of Monreal.
"I have good memories but while we were playing I was like a player and a fan," he told Arsenal Player. "I was on the bench and couldn't help the team so I can say that it was hard, but finally we won.
"In the moments when we were losing 2-0 after 10 minutes, it's a difficult moment because we fought a lot to get to the final, to try to win the trophy and you saw that in 10 minutes everything seemed done. The team was strong, they fought a lot and finally we got it."
This season has been completely different for the former Malaga left back who has improved dramatically from last season, he has developed a good understanding with Hector Bellerin, Per Mertesacker and Laurent Koscielny which has been a major positive going into next season.
Monreal has featured in three games in this cup run and scored an important goal at Old Trafford in the FA cup quarter final which Arsenalran out eventual 2-1 winners thanks to a late strike from Danny Welbeck.
"The most important thing is the trophy," the 29-year-old said. "It doesn't matter if I play or I don't play. When it's just one game, the most important thing is the team and if I'm lucky enough to play, I will do my best, try to help the team as much as I can and I hope we can win.
"We know it's just one game and anyone can win the trophy. At the moment we are the favourites but that doesn't mean we will win the trophy. We have to work hard from the beginning, play together and compact, and if we do that we will have more chance of winning the cup.
"The team is excited knowing that we have the chance to win our second FA Cup in a row. It's very important for us, the fans and the club and we want to repeat last year by winning again. It will be a dream for us again."
Monreal has kept Kieran Gibbs out of the team for most of the season and is tipped to do so again on Saturday.