Scars on the heart of both the Arsenal players and fans still exist from the horrendous assault
by Taylor on Eduardo two years ago.
Today's game at St. Andrew's park will be symbolic for the Gunners' in more ways than one. Foremost, Eduardo da Silva's first return to the Birmingham City stadium since he was the victim of a ruthless and disgusting act of barbarism at the hands of Martin Taylor in 2007 could prove the spark from which a scintillating Arsenal performance is spawned from. Secondly, it was two years ago that Arsenal found themselves in a similar position as they are today; the English premier League Trophy within their grasp. At that time, Eduardo's horrific injury marked the beginning of a sharp decline in both morale and performance in that season. However, something tells me that vindication could very well be delivered today by the spade full. While Eduardo's injury may be nothing more than a statistic to many now, and Arsene Wenger seems somehow vilified in the media for holding his grudge against Taylor, us too, the fans, I'm sure, have very little room for clemency in our hearts. Hopefully, a measure of poetic justice will be dealt today.
An Arsenal team unbeaten in six games in a row, and possessed of a sense of comradery, spirit and morale which is fleetingly found throughout football teams around the world, travel to St. Andrew's Park to face a Birmingham side performing far above expectations. The Gunners' top the Premier League form chart, although Birmingham themselves have statistics to be reckoned with; despite having lost their last two games, both matches have been on the road – Birmingham have not lost at home in eleven league games.
Certainly, this is going to be the furthest thing from an easy match. It's going to be tough, it's going to be grueling, and, if past matches with Birmingham are anything to go by (considering, the severity of the tackles with which Birmingham seem inclined to deal to Arsenal players; Taylor on Eduardo and Ridgewell on Walcott in the reverse fixture) we might consider ourselves lucky to come out of this one unscathed. Undoubtedly, the St. Andrews' mob will play true to form, and we can expect frequent fouling, tough tackling, and numerous efforts to break down our style of play. Still, it seems that if there's any team in the Premier League that know how to triumph over adversity, it's our Gunners', and I can't wait for them to deal out some much deserved retribution in the form of a fiery but decisive performance.
Game Plan:
A balanced attack between our dynamic movement, with a touch of directness in utilizing Bendtner should work well. I'm worried that if we over commit to our short-sharp style of play then we may suffer; Birmingham probably feel content to sit with 8 or 9 men behind the ball, and counter when the opportunity arises. They certainly will probably feel content with a point, so we should be wary of this; one from three may be good enough for them, but won't do for us. So balance out, keep our fluid movement and work the inside runs behind their fullbacks, but hopefully keep Bendtner hovered to duck in behind when the opportunity arises. Hopefully he will stay central, as it will force the opposition defenders OFF our midfielders, and onto him; if he drifts too wide, then they have no real threat to guard and can press us a lot more.
Opposition Threat:
The counter attack, mostly, similar to the goal we conceded recently against Burnley. We have proven that we can match any team who tries to bully us with over-physicality, so I don't foresee that being an obvious problem. As long as we stay sharp and watch the long balls. An example would be the goal conceded against the run of play versus West Ham that caught our defensive line completely off guard. As usual, a team like Birmingham will also look to set plays as a good opportunity, so staying sharp, particularly at scrappy corners, is key too.
Fabregas is sure to be critical, and he always turns up well against the 'lesser' opposition.
The young Spaniards every touch seems to be magic.
Key Man Watch – Arsenal: The Spanish magician Cesc Fabregas continues to enjoy his best season ever, and will most likely be the player causing the most grief for Birmingham. He really is the centre of everything when he's playing in the Arsenal team and for good reason too; his amazing vision, passing and off the ball movement ensures he is always in the right place at the right time. This, couple with a fantastic ability to always choose the right times to pass, shoot and run, mean he is a threat to any defence. Look to him for an assist or two, possibly even a goal. Alex Song could also be our key player, as a great game will be needed by him to allow us to get about our work.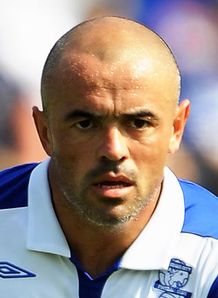 Full of focus: Proven defender Stephen Carr will be central to Birmingham's tight defence tonight.
Key Man Watch – Birmingham: Being both a greatly experienced defender and Birmingham Captain, Stephen Carr will be looking to frustrate the Gunners' with a well organised defensive outfit. If Carr can keep things tight at the back, and keep his midfielders bossed and motivated, then Birmingham could do a great job of shutting us down all night.
In summary, the most important thing for Arsenal tonight is to stay focused. There will be a host of distractions, not least the emotions which are sure to be surging with Eduardo's first return to St. Andrew's. The Gunners' need to be motivated by this, but not dominated by it. Stick to their game plan, and they will break Birmingham down, but get frustrated, start losing the ball, and start trying to pass through the eye-of-the-needle, and it could turn into a VERY tough night. I wish all the best to the team, and to all you Gooners out there who will be wearing your hearts on your sleeves for the boys. As per usual, this game is a must win for us to keep our title hopes alive, but it is winnable. Good luck everybody!
Join the Arsenal Action Forum for all Gooner discussion,
Curt.B