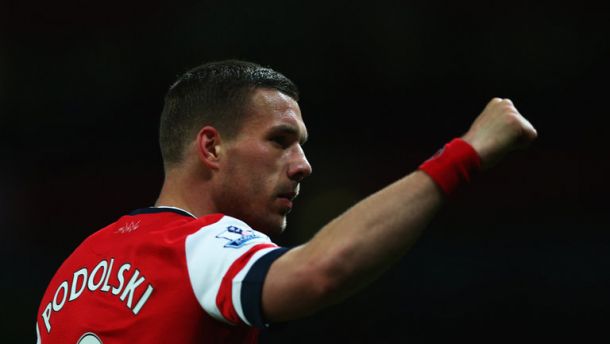 It is being reported that both Juventus and Atletico Madrid are interested in taking Arsenal out of favour German forward Lukas Podolski on loan in January.
Podolski has found himself frozen out by Arsene Wenger after slipping down the pecking order with the arrivals of Danny Welbeck and Alexis Sanchez in the Summer.
"I am not happy with the situation at the moment. It would be wrong to suggest that I am," said Podolski. "I still have fun playing football but when the competitive element of it is taken away from me, the one I enjoy so much, then I am not happy. I have to think about will happen this winter and will look to hold talks with the club."
Asked about leaving during the summer, he added: "There were no offers. In football you can't sadly just go looking for a club but have to see what comes." –Speaking back in November
The former Bayern Munich man has only featured in 13 games this season the last of which was only his 2nd start so far in the 4-1 away win against Galatasaray which effectively was a nothing game but would have definitely put the German in the shop window.
This is not the first time that Juventus have been rumoured to be interested in Podolski, back in August he was expected to be a target for the Serie A champions but nothing materialised. Juventus will be helped by Podolski who has a desire to end his current predicament at the Emirates and with Joachim Loew having numerous talents to pick for the German national team Podolski may need to move to save his Internatioanl career.