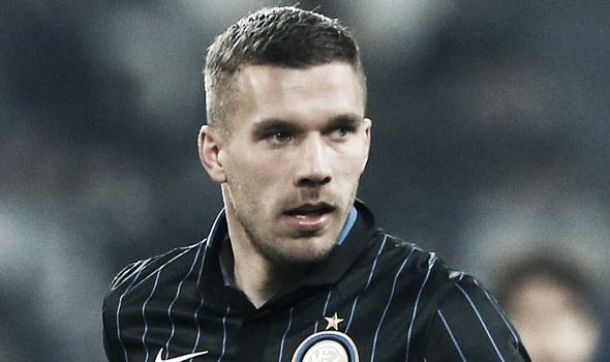 The German world up winner has confirmed talks are ongoing with Turkish giants Galatasaray, and Lukas Podolski expects to complete a £2.3 million deal in the coming days.
The Arsenal striker appeared on the Turkish club's inhouse TV station and admitted he would "love" to be playing for them next season.
Podolski said "Yes there have been meetings with Galatasaray. I hope the transfer happens.
"I'd love to play at Galatasaray. The fans are great. They showed a great interest in me on social media."
Podolski's nightmare coming to an end
Podolski in recent seasons has become frustrated at a serious lack of opportunity at the Emirates, and it would not be a surprise to many to see him clinch a move away this summer.
After spending the last half of the previous campaign at Inter Milan, where he struggled to come to terms with Italian football and only contributing one goal, The Italians decided against taking up the option to buy, which in turn saw Podolski having to come back to the Emirates to see out the last year of his contract.
Arsenal have been keen to get him off the wage bill, the German currently pockets £100,000 a week which is a sizeable sum for a player that has not contributed in a huge way for some-time. It is thought that his wages will go back into funding Petr Cech's arrival who signed officially yesterday.
A Change of heart
Podolski's comments have signaled a u-turn from what he expressed only a few days ago, he seemed very dismissive of his time short time in Serie A, claiming that "English football suits me best".
First team football is clearly the draw away from the Emirates, where despite the lack of depth in the centre forward position he still falls short of challenging for a place in the match day squad.
Olivier Giroud, Danny Welbeck, Theo Walcott and Chuba Akpom all seem to be above the former Bayern forward in the pecking order, and at the age of 30-years-old there is not much more point in him waiting for a chance that may never come.