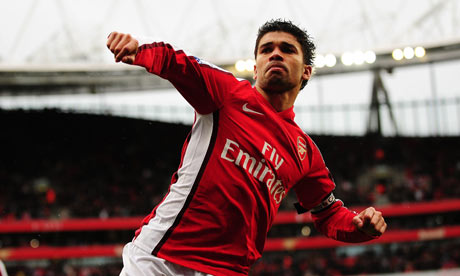 Hello all, been a while since I've posted on the blog. Hopefully I'll make for a little more positive reading than Sinbad, or rather, present my views less controversially.
This is not a match report, rather my thoughts on the recent Celtic – Arsenal game.
First off, let me say that if we play as openly as we did in the first half, United will rape us. Having said that, we started the game 2 goals up against lower quality opposition, so in this scenario was not bad and very enjoyable. Put in the disciplined, organized performance of the second half and it's United that will get destroyed. Even if we do lose to them, this game was more important. Be a bit annoying to have our momentum stopped, but I'm quite confident against the bigger teams. If they thrash us, then maybe we'll need to have a look at ourselves.
Not a single bad performance today, so I'm pleased. I very much enjoy watch Dudu play, such an intelligent footballer. And Vermaelen is as well, reads the game really well. The team sheet at the start didn't exactly fill me with joy, but it turned out alright.
I don't think Dudu dived. It looked like he tripped to me. To my knowledge, he has no reputation as a diver so why would he when we're two goals up? Was definitely not a penalty though and I can understand the frustration of the Celtic players and in no way do I blame them. I would have gone completely mental if I was on the receiving end of the stick.
http://www.101greatgoals.com/videodisplay/3286895/
You'll get a clearer view of what I'm saying if you look at it from another angle.
He gets caught in two minds I think. Was going to try and beat Boruc, but when he saw he couldn't tried to cut it back with his left foot or stop and lost his balance or tripped on the turf. Hard to tell which.
You only need to be a psychologist if it's a 100% dive, but this is not. Not in my eyes anyway.
It doesn't look like a dive to me and the fact that he has not dived before and has no need to makes rather more sense then him suddenly deciding to win a penalty.
People will go on about Wenger's comments and how we as Arsenal are a bunch of hypocrites, but I suggest you take whatever comments he makes with a pinch of salt.  He will say one thing to the press and another to the players. Wenger is anti-diving. He has publicly criticized Eboue in the past for diving.  I don't recall Sir Alex Ferguson having much to say about Cristiano Ronaldo diving, yet he seemed to have cut most of that out towards the end of his time at United.  I don't doubt Ferguson had a word with him in private.
But in the end, that goal made no difference. Even if we hadn't scored, they were still two goals down and would have had to attack, which would've opened them up so we would have scored goal two regardless. Had they scored in between those goals, it may have been a different story, but they didn't, so it's a moot point.  Celtic trying to deliberately injure our players seems to be a bigger issue to me but I doubt it will get a mention. Whereas when Eboue accidentally injures John Terry, he should be kicked out of the country for touching England's little star.
No doubt the English media, hypocritical cunts, will vilify Eduardo. Celtic players will bitch and moan about how nothing went their way, but the fact that they had one shot on target the whole game, and that coming in the second minute of injury time, says it all for me. If their captain was not such an incompetent, maybe they would not have been in this position today.
A word about the incident at the end. The match was lost. Had it happened after the penalty, I would have understood it but Scott Brown having a go at a 17 year old and then the whole Celtic team ganging up on Denilson – who seemed to have suffered the brunt of their frustration for reasons unknown to me – says it all. Today, Scott Brown did not look like the best player in Scotland. He looked like a thug and an utter cunt. The whole Celtic team  seemed to have a mentality based on the fact that they're used to having decisions given to them.
The Fabster