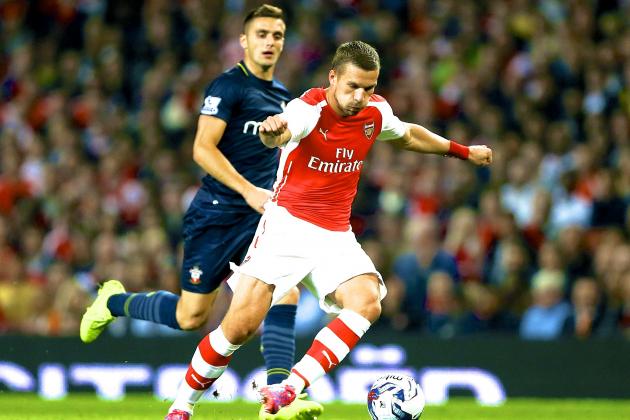 Lukas Podolski was tipped by many to start at St Mary's today as Arsenal look to start the New Year on a positive, a win would see them jump today's opponents Southampton and see them back in the top four. The German is rumoured to have stormed out of Arsenal's training ground on Wednesday after complaining about a groin problem.
Podolski has recently been linked with a loan move to Serie A in January with Inter Milan and the German forward feels that Arsenal are blocking this move. He has been frustrated with the lack of first team opportunities this season and has only featured in 7 Premier League games.
When Arsene Wenger was questioned in his latest press conference regarding Inter's interest he denounced any interest as laughable and this could well be the reason Podolski showed his anger on Wednesday at London Colney. It is unclear whether Podolski is actually injured but it would be somewhat a self inflicting way to make your point. With Danny Welbeck and Olivier Giroud both unavailable and that would have been the chance for the German forward to show Wenger what he can do. Podolski is expected to be replaced in the match day squad by Joel Campbell with Alexis Sanchez playing through the middle.
Things were looking positive for Podolski back in December after scoring twice in a 4-1 win at Galatasaray but following that performance he was dropped to the bench against Newcastle and this just highlighted his frustrations.
Podolski is a fan favourite and has not once mentioned that he wants to leave but he has made it clear that the uncertainty surrounded his future needs to be sorted out, the 29 year old is reaching a very important stage of his career especially regarding his International career. Joachim Loew has said that Podolski will always be in his plans but if Podolski continues to not play competitive football he may have to rethink his selection plans.
Given a run of games Podolski has always performed, back in 2012-13 he had his best season for Arsenal scoring 11 goals and grabbing 9 assists in 33 games from his favoured left wing position, but since then he has been used rather sparingly. The following season he only made 20 appearances scoring 8 times and assisting 2 times.
It is a bit of a mystery as to why the German has dropped down the pecking order so quickly, Wenger has a history of having spats with his playing staff and dropping them almost indefinitely. No one player is bigger than the club which I agree with but unfortunately the club now has a mentality that Arsene Wenger is perceived to be bigger than the club and that is where a lot of the problems have arisen.
Only last season Steve Bould walked out after feeling that his input was being ignored and it was only the desire of some players to convince him to come back that stopped him severing ties with the club.
Lukas Podolski is the most unlikely player to become a transfer rebel but with news that he has gone AWOL after his walk out from training it would be fair to say that it would be surprising to see him pull on an Arsenal shirt again