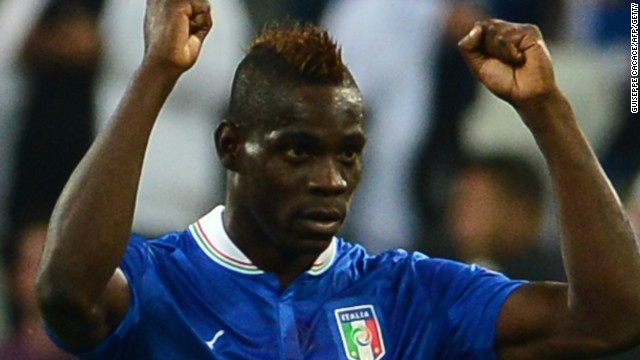 Back in February current Arsenal sponsors Puma were rumoured to have been willing to part fund a transfer fee for one of their endorsed players believed to be AC Milan's Mario Balotelli not much was said about it at the time but it now looks like Super Mario could well be on Arsene Wenger's radar for the Summer. Balotelli who divides opinion more than most has had his problems on and off the field most notoriously at Manchester City where he had a big falling out with Roberto Mancini the two seemed to constantly be at loggerheads.
In this morning's Daily Telegraph it is reported that the club has adding the eccentric Italian to their list of Summer targets along with Frenchmen Loic Remy and Karim Benzema. It is clear from reading various reports that Wenger would like to sign two Strikers to add some real depth to the squad for an onslaught on the Premier league title that is no held by Manchester City, many people seem to conclude that Remy is as good as a done deal with numerous reports suggesting terms have been agreed with the QPR Striker.
It remains to be seen whether Wenger is willing to take Balotelli with his baggage, there is a lot of baggage but it has been proven by Italian coach Cesare Prandelli that if you can tame Balotelli and get him focused on Football  he can be unplayable. Balotelli's goals record speaks for itself 12 goals in 29 internationals, Mario scores goals wherever he goes, 20 goals in 59 appearances for Internazionale then 20 goals in 54 appearances for Manchester City and most recently 30 goals in 54 appearances for AC Milan who are now willing to listen to offers for Super Mario who would carry a transfer fee of £30 million, but with Puma allegedly rumoured to be willing to contribute up to £15 million along with a reported £100 million transfer kitty at Wenger's disposal this could be an interesting Summer at the Emirates.
He is strong, agile, creative and has a good eye for goal as his current record suggests seeing him with 1 in 2 at AC Milan last season. The one problem that has always followed him is his attitude, a Balotelli in the right frame of mind can be exhilarating to watch I cast your mind back to his display in Euro 2012 where he as good as dragged Italy into the final his MOTM performance against Germany that Summer was probably the outstanding performance of that tournament you could argue he deserved to win that tournament with some of his displays. The flip side of this is that an unfocused Mario is not a pretty site he does have the tendency to self destruct as we saw back at Manchester City. Milan are believed to be in financial difficulty and are struggling to fund deals for as little as £5 million. For what Balotelli brings to the table it is a risk well worth taking, he is now 23 years of age he still has a lot to learn but would bring so much more.
Thanks for reading
@goonerscribe