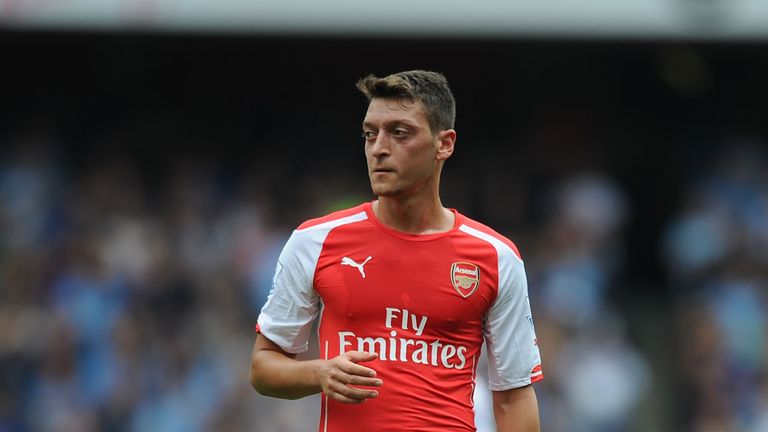 Germany and Arsenal midfielder Mesut Ozil has been included in a list of nominees for the 15 man strong FIFPRO World XI. He is alongside such players as Xabi Alonso, Andres Iniesta, Andrea Pirlo and Paul Pogba to just name a few.
According to the Guardian Ozil is a surprise inclusion in the nominee list;
"With largely indifferent club form, and having missed a large part of the year through injury, Ozil is seen as a surprise nomination for the world XI, but joins other World Cup winners Toni Kroos and Bastian Schweinsteiger on the list, which also includes four candidates from Spain: Xabi Alonso, Fàbregas, Xavi Hernández and Andrés Iniesta."
Sometimes I do wonder what some people are watching when they express their views on certain individuals, to the naked eye Ozil has the demeanour of a lazy footballer, someone that has no or little work rate but the truth is that he covered more ground than anyone else in the 2014 World Cup and only Lionel Messi created more chances for teammates in the whole tournament, so surely his inclusion at least in the 15 strong list is more than merited it is expected right?
Ever since Ozil moved from Real Madrid in the 2013-14 season the British media have made a point of digging into his personal life which I suppose is to be expected when it is a slow week but it seems like they have an agenda when it comes to any player that pitches up at the Emirates. A day after Alexis Sanchez signed, the tabloids ran a story about his "relationship problems", I didn't see this happening to any other player in the Summer.
Some fans have been quick to jump on Ozil's back this season with some even suggesting he should be move on already, reports of him failing to settle are wide of the mark and he has gone out of his way to shoot down any rumours of an early Emirates exit. The German had been strongly linked with a move to Bundesliga leaders Bayern earlier in the year but he has since denied any interest and has claimed he is just concentrating on his rehabilitation.
So how good has Ozil really been since his move from the Santiago Bernabeu?
One thing that you can take from these stats are that Ozil shows consistency and is one of the most creative midfielders in World football. This is clearly why he has been voted in the FIFPRO midfielder World XI, this is voted by fellow professionals so to say this is unmerited is disingenuous in the extreme.
Arsenal have been vastly inconsistent this season and have clearly missed Ozil's creativity, Arsenal's "No.10" is expected to be available in the new year when he should have completed his rehab from the knee ligament tear he picked up against Chelsea in the 2-0 loss on the 5th October.