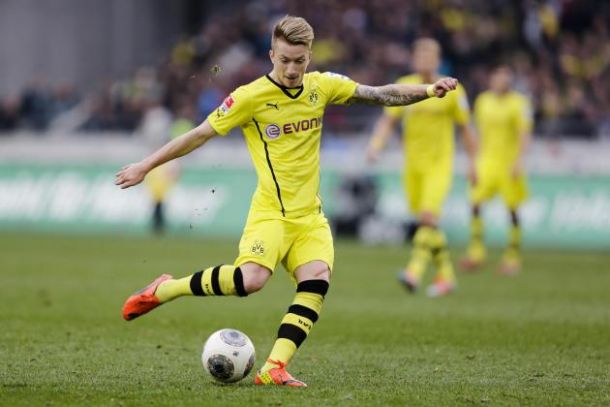 Another deadline day is upon us and the seasonal Marco Reus link has risen from the ashes once again but this time there may well be more weight to this than in previous transfer windows.
The German attacking midfielder has been one of the most sought after properties in European football in the last 3 seasons and with Borussia Dortmund's faltering campaign there is only so much loyalty within a player these days to persuade him to stay at his boyhood club.
Arsenal nearly signed Reus once before, whilst tormenting defences in a Borussia Monchengladbach shirt in the Summer of 2012. Unfortunately for Arsene Wenger the exciting attacker decided to follow his heart and go back to the club that he had supported as a boy and spent 10 years developing as a player.
Jurgen Klopp's Dortmund side are struggling this campaign and this could instigate an exodus in the Summer with not only Reus up for grabs, team mate Mats Hummels is drawing a lot of attention as well as Klopp's own future at the club. A possible departure of Klopp could see Reus view his footballing future very differently and question where exactly his club are heading.
Many within German football expected Reus to be on the move next Summer to Bayern Munich who have already poached Robert Lewandowski and Mario Gotze from Klopp's men, however Bayern have distanced themselves from the player in recent weeks leaving the door open for some of the big boys in European football.
If reports in the Daily Star are to be believed Reus would "love" the opportunity to work with Wenger at Arsenal and with his fee release clause of £20 million being activated this Summer he is a player firmly within Arsenal's budget. FFP (financial fair play) has come in to force now which has seen the likes of Arsenal and especially Manchester United benefit in being able to "close the gap" on the bankrolled giants that are Manchester City and Chelsea.
But where would Reus fit in at the Emirates?
As things stand Arsenal have a plethora of talent at the club and out on loan but with the ageing Santi Cazorla and especially the evergreen Tomas Rosicky it is important to keep the squad fresh and competition for places at a high level. It is beyond any doubt that the arrival of Alexis Sanchez has rejuvenated the Emirates this season and a similar signing would do the same again next Summer.
The German international has rarely figured for Dortmund this campaign due to injury but has 3 goals in 8 Bundesliga games and that could go someway to explaining his club's poor league position, Dortmund sit bottom of the Bundesliga with only 2 wins in their last 10 league games.
To get a greater understanding of what Reus brings with him you just have to look at his previous two seasons at the Westfalenstadion. the 25 year old attacker scored 14 goals in 32 games back in 2012-13 and created 59 chances, the following season he was even better scoring 16 goals in 30 games and creating 90 chances in the process.
There are sure to be many suitors next Summer and for the fee of £20 million which is very little in todays inflated transfer market Arsenal could do a lot worse than freshening up their attacking options with the exciting German attacking midfielder.