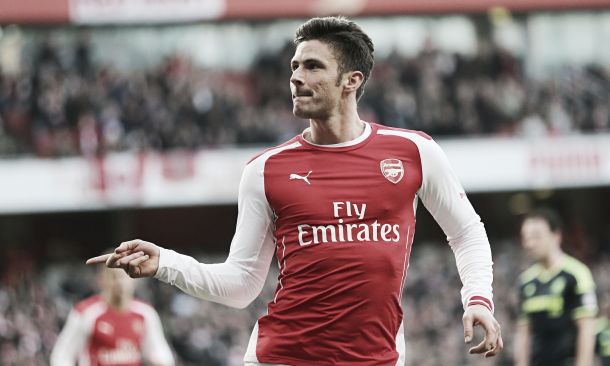 Since his arrival in 2012, as a replacement for the departing Robin Van Persie, Olivier Giroud has been a scapegoat for much of Arsenal's inefficiencies, but is the some of the criticism justified?
Following Arsenal's dull 0-0 against Chelsea at the Emirates in April, Thierry Henry spoke about Arsenal's transfer policy, and more importantly how Arsene Wenger needed to sign a world class striker.
"Arsenal can't win the title with Giroud in the attack, and Arsene needs to bring in four top players".
It is difficult to argue with that sentiment, especially when someone with the stature of the former Arsenal great shares those views.
Even a team-mate of Giroud, Santi Cazorla weighed in with his opinion on the situation back in May where he said "We need to sign a new striker", but unlike Henry, the little Spaniard was making the point that is due to the over-reliance on Giroud for the last few seasons.
As many now know, Robin Van Persie was sold in the summer of 2012 to rivals Manchester United, following a glittering season on a personal level. Giroud was brought in from Montpellier as a replacement, but took sometime to get to grips with the premier league.
Giroud has not necessarily flourished at Arsenal
Giroud's goals to games ratio has improved gradually in his three seasons in England, scoring 11 goals in 34 games in 2012/13, 16 goals in 36 games in 2013/14, then last season scoring 14 in 27 league games. Were it not for injury you would expect he would have maybe reached the 20 goals mark, which would have shown a significant improvement.
Part of many a fan's disgruntlement is down to the club selling their most valuable asset to a rival club, they expected that money to be spent to acquire a world class striker, Giroud is good and would be a good "option", but with any side harbouring title winning ambitions he is do not possess the quality to be the focal point of a successful title tilt.
There is also an argument that Giroud's stiff playing style as harmed Arsenal's attack rather than enhance it, there were many times last season when Arsenal were in full flow on the counter attack, Giroud would slow up play, unintentionally. It is just not his game, first and foremost he is a target man, who Wenger has not been able to utilize effectively since his arrival.
Just how important is Giroud?
It is no secret that the Gunners are in the market for another centre forward this summer, and that speaks volumes. It is a position that needs to be addressed.
Theo Walcott has still not signed a contract extension, but that is expected to change sooner rather than later, but who knows if he will be given his chance through the middle, but he has flourished there recently for Arsenal. Danny Welbeck has been more miss than hit since his much publicized move from Manchester United, he has failed to make much of an impression.
This just leaves Giroud, who is not a world class striker by any stretch of the imagination.
It is clear that signing a striker is high on Wenger's priorities this summer, the latest rumour is surrounding Borussia Dortmund's Pierre-Emerick Aubameyang, the Gabon international is believed to be available for £28 million. The forward is thought to be interested in leaving the German side due to the departure of coach Jurgen Klopp.
Wenger's squad is void of a world class striker who can hit 30+ goals a season, something that is required to challenge for the biggest prizes in football, last season Arsenal were reliant on the exploits of Alexis Sanchez, were it not for the Chilean's 16 premier league goals and eight assists they may have fallen some way short of their eventual third placed finish.