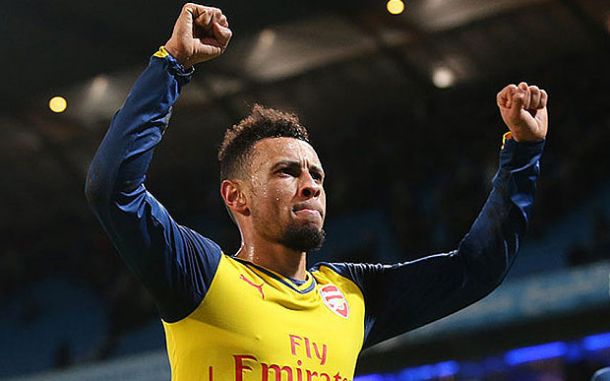 From time to time injuries can be a blessing in disguise for a manager, giving the opportunity to a player on the fringes of the squad and seemingly with not much future at his club. This could well be the case for one Francis Coquelin.
Since the 23-year-old French midfielder has been recalled from his loan spell with Charlton he has been ever present figuring in all of Arsenal's previous seven Premier league games and the only blemish was the 2-0 loss away at Southampton, which as everyone knows by now was down to two catastrophic goalkeeping blunders by Wojciech Szczesny.
Coquelin took a lot of the plaudits from a solid and professional away performance in a 2-0 win at the Etihad on Sunday and it is easy to see why. Manchester City had their big guns on display, apart from Yaya Toure and Samir Nasri, and they struggled to really create anything clear cut. It was a different system that Arsene Wenger went with and it stifled the home side's momentum. Coquelin put in a stellar performance sitting in front of the back four, he never left Silva's side all game and as a result Arsenal were able to set up numerous counter attacks and could have won by more than the two goals in the end.
The Man of the Match award went to Santi Cazorla and you would be a brave man to say that was not warranted, however if Coquelin had won it there would be very little complaint. His performance for a 23-year-old who was only making his 13th league start was immense. The Frenchman showed composure and vast leadership qualities that Per Mertesacker would be proud of. Coquelin marshalled the back four in a way that resembled former Arsenal man Gilberto Silva. The tough tackling Frenchman has taken his chance after Wenger showed faith in him or be it belatedly and forced upon him.
Recent performances have already seen Coquelin awarded a new contract offer which would have looked almost impossible just a few months back. With his contract coming to an end this Summer it is imperative that they push the boat out to get him signed up for a further four years at least.
The 23-year-old is a prime example of how important it is to gain experience in different leagues and different playing styles, he has benefited in a huge way. With loan spells at Lorient, Freiburg and most recently Charlton he has clearly learned a lot from his experiences and has defied the critics in recent weeks and, with him answering the latest question which came against Manchester City, he looks to have a bright future at the Emirates providing they can came to a contract agreement.
Is Coquelin the answer to Arsenal's defensive problems? One thing is for sure, he can't transform it over night or by himself but there is no denying that Arsenal look a lot more solid, organised and comfortable as a defensive unit with him in front of it.