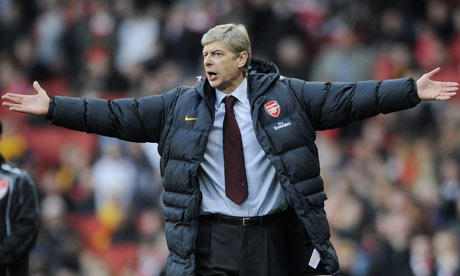 This post was taken from this thread on the forum
You know what, tonight a massive part of me wants spurs to win and wants them to finish above us in the league.
No doubt that many of you will call me a disgrace but I feel that finishing below the spurs would be the best thing that could happen to Arsenal FC the fans and the manager.
Some of you fans and even the manager and the board only care about finishing above the spurs and qualifying for the Champions league.
If we finish above the spurs you class our season as a success, No doubt if we beat Fulham this weekend and finish 3rd and above the spurs the players will do a lap of honer and the fans will be happy.
But in fact the players should do a lap of shame after the fulham game even if they win.
I would love it if Fulham beat us and the fans turned on the players and wenger, Because that's what Wenger needs. Forget this "in Arsene we trust cobblers"
Wenger and the board need to know that finishing in 3rd place is not a success, We want to win things again. Wenger says that finishing 3rd is better then winning the FA cup and that finishing 3rd is like winning the 2nd league. What a load of crap! We had a great chance of winning something this season and we blew it.
You can blame it on the injuries to key players AGAIN but the sad fact is that our players bottled it and Wengers poor tactics and lack of spending had a massive part to play in it.
That's why a part of me wants spurs to finish above us. So that we for once, can all stand up and admit that this needs to change. Finishing 3rd and above spurs cant be our target at the start of each season.
Wenger the board and the fans must now all come together and admit that this project of wengers is over and something needs to change in the summer.
A change of policies with regards to transfers or maybe a change in staff and wenger gets a new backroom. Some fans like me might even say that Wenger needs to go and we need a new manager.
Today the Arsenal.com and Wenger propaganda spin started again, the same BS since 2005. "I will sign 2 super super super class players" etc etc, and then he starts to backtrack on his words and says the players who are returning from injury will be like new signings etc.
If I'm honest I am now sick of wenger and all his crap. The fact that he wont admit that he is wrong or that the players are not good enough and wants to blame everything and everyone but not himself.
For years now Wenger has told the fans that we would be reassured by the summer transfers only to see our best players sold and replaced with cheap kids or players like Silvestre, and this poor 4-5-1 tactic is not working but wenger is to stubborn to revert back to a 4-4-2.
I want us to finish below spurs so that the Arsenal board, Wenger and the fans know that we don't have a divine right to do so each year and we cant be arrogant to think that finishing 3rd and above the spurs is good enough anymore.
If only our fans protested this weekend or somehow turned there back on Wenger rather then hang a banner up saying "in Arsene we trust" when most of us dont anymore
It kills me to say this but COYS
Sinbad
Debate this more on the forum ( HERE )