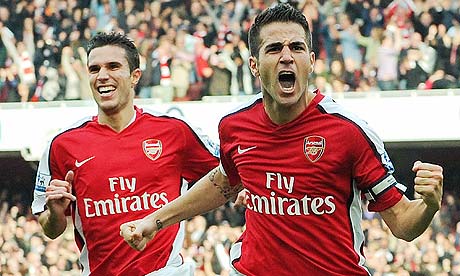 Will I be the only Gooner cheering on the Dutch tonight?
Two Arsenal players in the final, one on each side. I really hope that Robin Van Persie scores the winner and that Cesc spends the whole night sitting on the subs bench.
Why? …. Well, a few reasons! Some of the spanish players have really pissed me off "Gerard Piqué" with his comments about Cesc moving to Barca etc.
And I hope that Cesc finds sitting on the bench frustrating and maybe he will see the light that "if" he was to move he wouldnt be playing in the middle for Barca. He would have to play on the wings or even used as a sub.
RVP on the other hand has never said anything negative towards Arsenal, For me "if" Cesc was to leave RVP would be the future capt for Arsenal.
So adding all that up, I hope and pray for a dutch win tonight, with Robin scoring the winner in the last min and running over towards Cesc who is sitting on the bench.
How do you feel?
Do you agree with me? Debate this more on the forum > [ HERE ]