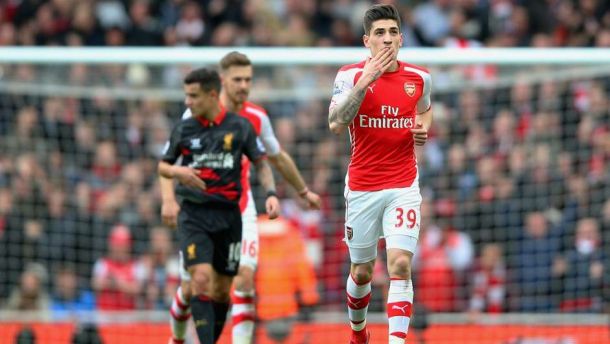 Arsenal's young Spanish right back Hector Bellerin has really developed in a short space of time since his arrival from Barcelona in the Summer of 2011.
Bellerin who was 16 when he signed for the North London club took very little time to settle and now looks like another gem that Arsene Wenger seems to have uncovered from Catalonia.
The Spain under 21 international signed his first Arsenal professional contract in July 2013 and has never looked back, he is starting to look like part of the furniture at the Emirates.
The pacey full back made his Arsenal debut against West Bromwich Albion on the 25th September 2013 when he came on as  a sub for Mikel Arteta in the 95th minute which gave him a taster of what it is like in the Premier League. He then had a short loan spell at Championship side Watford starting in January 2014, however he was called back after an impressive spell of 8 games due to defensive injuries at the Emirates.
Bellerin made his Champions League debut in a 2-0 away loss to Dortmund on 16th September 2014 with many suggesting it was too much too soon, the right back was not the only player to under perform in that game and Wenger's faith in the youngster seems to have paid off in a big way.
Bellerin's only assist thus far came in an impressive 4-1 home win against Newcastle on 13th December 2014, setting up Olivier Giroud for his second of the game. It concluded a fine individual display by the former Barcelona defender who was starting to show real promise.
His first goal came on 1st February 2015 against Aston Villa where he capped off an emphatic 5-0 home win with a controlled drive from outside the visitors 25 yard area, Bellerin had seriously announced himself to the Arsenal faithful.
He got his second Arsenal goal in a vital 4-1 victory on 4th April against Liverpool, some good work between Mesut Ozil and Aaron Ramsey set up Bellerin who darted into the penalty area, tricked his way past Spanish compatriot Alberto Moreno then curling the ball around Kolo Toure and passed a helpless Simon Mignolet. It set up a perfect afternoon for the home side.
The football gods could well be shining on Hector Bellerin, after all if it wasn't for key injuries to Mathieu Debuchy, Nacho Monreal and Calum Chambers he may have been out on loan again. The Spaniard has taken his chance with both hands and it would take something miraculous to shift him from the starting XI.
Mathieu Debuchy would be first choice for many but with the Frenchman seemingly injury prone I would not imagine Wenger would be in a rush to take Bellerin out of the firing line, although he is a mere 20 years of age he  is starting to look like the finished article.
Wenger has always encouraged his full backs to attack providing a lot of width and this is something Bellerin has already shown on many an occasion, he has shown to be more than just a back up defender and it would be a massive shock if he is not Arsenal first choice right back for the rest of the season and beyond.