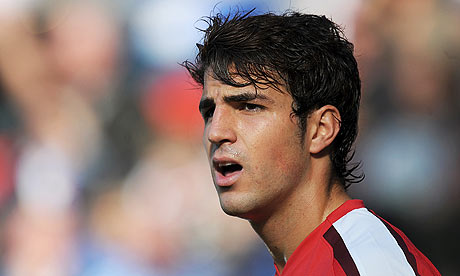 Music to the ears of all Arsenal fans.Cesc Fabregas has admitted that he may STAY at Arsenal.
Speaking to the mirror, Cesc said he is frustrated at being left on the bench in Spain's World Cup campaign.
The Arsenal captain Fabregas then went on to say :
"I always want to play. I'm not used to sitting on the bench and I want to be playing at this World Cup.
"I'm always competitive at everything – even on the PlayStation. But that's my desire to win and I have that even in training.

"I've never been a player happy to settle for what I have, I always want more. I respect the coach's decision.

"I know to be in midfield is going to be difficult because we have a lot of good players but I will never give up.

"I've won a lot of caps but if I've not played three quarters of the game then it's not so valuable to me.

"I still don't think my best time for Spain has arrived and I still must carry on working to improve."
Fabregas has also insisted that he is focused on the World Cup and will not necessarily leave Arsenal this summer despite Barcelona's interest.
But Fabregas said:

"I haven't said that I will definitely leave Arsenal. Everything is possible. Now I have my head and my focus on the World Cup.

"I am very pride to be captain of Arsenal and I love the club and have respect for them. It gave me such pride to be made captain."
Now, I ask you.. is this a player who is saying that he WANTS to leave Arsenal?, Wenger has said that he is not leaving and now Cesc has come out and said the above.
Debate this more [HERE]