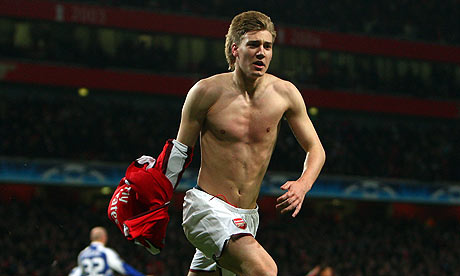 An inspired Nicklas Bendtner ended Arsenal's goal drought as bottom-of-the-table West Brom were swept aside 3-1
The Great Dane's scored after only 4mins when his left-foot shot  gave Arsenal their first goal in five league games. Chris Brunt equalised with a free-kick that went though a poor Arsenal wall.
Kolo Toure restored Arsenal's lead, heading in Andrey Arshavin's free-kick.
Bendtner made it 3-1 with a crisp volley and he later hit the foot of the post as Arsenal dominated and boosted their Champions League hopes.
Andrey Arshavin again had an impressive night and came close to scoring his first goal for Arsenal.
Ratings
Almunia 6.5
Sagna 7.0
Toure 7.5 (sub Diaby 6.5)
Djourou 6.5
Clichy 6.5
Song 6.5
Nasri 7.0 (Sub Fran 6.0)
Denilson 7.0
Eboue 6.0 (Sub Ramsey 6.0)
Arshavin 8.0
Bendtner 9.0
Join the forum www.arsenalaction.com