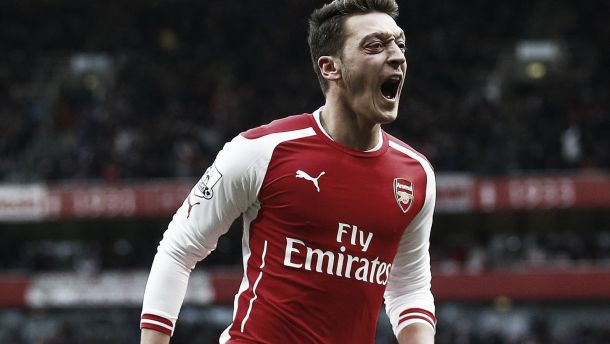 Mesut Ozil was in good form for Germany again at the weekend as he grabbed a hat-trick of assists to see off Gibraltar in the Euro 16 qualifiers, but how do his international performances differ from how he performs for Arsenal?
The former Real Madrid "assist king" took a while to get to grips with the hustle and bustle of the premier league, but is now starting to put in the kind of performances that were expected of him following his £42 million move to the Emirates in 2013.
Ozil has taken a while to win over some of the Arsenal fans who have been less than complimentary of the German's performances in an Arsenal shirt, but following his return from injury he has been one of their most reliable performers. Ozil has never been your typical "work-horse" of a player and the things he offers are more notable off the ball than on it.
Mesut Ozil has a pure football brain
His intelligence is one of the most important things that he brings to both Arsenal and the German national side, he has a pure football brain which is highlighted with the clever positions he takes up in the final third.
Ozil is most effective for Arsenal when deployed in his favoured "no.10" role, he has scored four goals, contributed five assists and created 70 chances this season which is less than the previous campaign, however this could be due to the German being hampered by injury.
How do Germany utilise Ozil?
Germany national coach Joachim Loew has recently tinkered with the 4-3-3 that working so well at last summer's world cup in Brazil, they now play a very similar system to the 4-2-3-1 formation that has worked so well for Arsenal in the last half of last season.
Ozil has become a central figure for both club and country, the one big difference is that Germany play with less of a physical presence than Arsenal, favouring the quick and nimble Mario Gotze or the tireless Andre Schurrle, while Arsene Wenger plays with the imposing Olivier Giroud up front which Ozil seems to prefer.
Arsenal's influential attacking midfielder seemed to be lacking confidence and sharpness at the beginning of the season, which can be put down to having a "world cup hangover", you could argue his injury came at a good time for all concerned. He has come back more fit, more focused and a lot more determined.
In the space of four months Arsenal's play-maker looks transformed and has even been confident enough to suggest they will beat Chelsea to next season's premier league title, some might say that is arrogant but for a player that has been labeled "disinterested" and "unhappy" it is a welcome sign for many Arsenal fans that he is dedicated to bringing more silverware to the Emirates.
Ozil clearly is looking forward to next season, a confident Ozil is very good news for the Gunners and very ominous for the rest of the premier league.