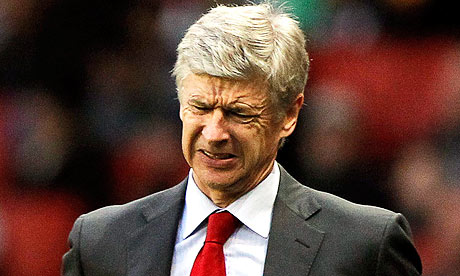 Arsenal will be looking to bounce back after an abysmal display away at Borussia Dortmund in midweek where they were put to the sword by Jurgen Klopp, The Gunners head to Aston Villa who are in fine form they still remain unbeaten and sit in second place, this has been the best start that any Aston Villa side has made since the Premier League began and they awarded manager Paul Lambert with a new four year deal this week. Arsenal on the other hand have been less convincing so far this season only winning one of the four Premier League games which came on the opening day. Last time out they looked a lot better against Manchester City but still came up short and defensively they look a shambles this will have to improve if they are to get anything from today's game at Villa Park.
Team News
Aston Villa
4-1-4-1
Guzan, Hutton, Senderos, Baker, Cissokho; Westwood, Weimann, Cleverley, Delph, Richardson; Agbonlahor.
Injured: Benteke (Achilles), Kozak (broken leg).
There will be a late fitness test given to Ron Vlaar but he is nt expected to be risked.
Arsenal
4-1-4-1
Szczesny, Chambers, Mertesacker, Koscielny, Gibbs, Flamini, Ozil, Wilshere, Ramsey, Sanchez, Welbeck
Injured: Debuchy, Giroud, Gnabry, Walcott, Monreal, Sanogo
There will be late fitness tests on Calum Chambers, Jack Wilshere and Mathieu Flamini but all are expected to feature.
Last season Arsenal ran out 2-1 winners thanks to goals from Olivier Giroud and Jack Wilshere which cancelled out Benteke's opener, much pressure will be on Wilshere to deliver once more as he looks to be the one this season that is making the most happen in that Arsenal midfield. Interesting this will be the first time this season that Arsene Wenger comes up against opposition that play the same system.
There has been a lot of divided opinion on social media this week about £42 Million man Mesut Ozil many suggested he should be dropped or even sold in January, this is something I would be very surprised to see Wenger do, on the flip side of that there have been many cries of "Ozil is not a winger" which rings very true indeed.
The difference between the two sides will depend on which XI settle into the system quicker on the day, looking at Aston Villa they have a perfect balance with every player in their strongest position, you can not say the same thing about Arsenal. Expect a lot of pace in the wide areas from Weimann and Richardson along with Delph supporting from an advanced central position, Agbonlahor is quick and could be the scourge of the Arsenal back four on his day.
Arsenal look very unbalanced at the moment, the problem for me is there are too many similar players in that Midfield, Flamini remains the only defensive minded Midfield player in the squad. Ramsey, Cazorla, Ozil, Oxlade-Chamberlain, Wilshere and even Sanchez to a lesser degree have all the attributes to be a great No.10, Arsenal Captain Mikel Arteta was even a no.10 when he was bought before being unsuccessfully converted to the holding midfield role. Wenger made the comparison between Ozil and Zidane when questioned about Ozil's position this season, "Zidane went to Real Madrid for £82m and he played on the left. There was never a debate and he had to play there," Wenger argues. "Because in the middle they had Raul and Ronaldo he made room and played on the left. When you have the ball you play where you want and go where you want." I do understand where Wenger is coming from on this but at the same time in this system Ozil does not have the licence to roam. This was found out against Everton where Arsenal were lucky to leave with a point and Dortmund just obliterated Arsenal all over the pitch.
There has been much talk about systems as is always the case with Wenger, he does seem to like to change formations at the start of a season but then doesn't carry a plan B when things go drastically wrong. Many fans I have spoken to would prefer to go back to the 4-2-3-1 that was working last season apart from those horrendous games at Liverpool, Manchester City, Chelsea and Everton. Those loses were more down to player application on the day than the system. I'm sure it is even written in "coaching for dummies" to pick players in their strongest position than do what Wenger has done and pick a system and almost make them fit, he would be the worst architect on the planet, not the best chess player either, tactically he has time and time again come up short against the top coaches, his record against Mourinho is laughable, he has never beaten a Mourinho side in the Premier League as that statistic highlights Arsenal's problems are in the big games.
Arsenal fans must have no illusions about today this will be a very tough game indeed, Villa beat Liverpool at Anfield in their last outing and will be looking for more of the same in front of their home crowd, already this has become a must win game at Villa Park, they can not afford to slip any further behind the runaway train that is Chelsea who already have twelve points to Arsenal's six.