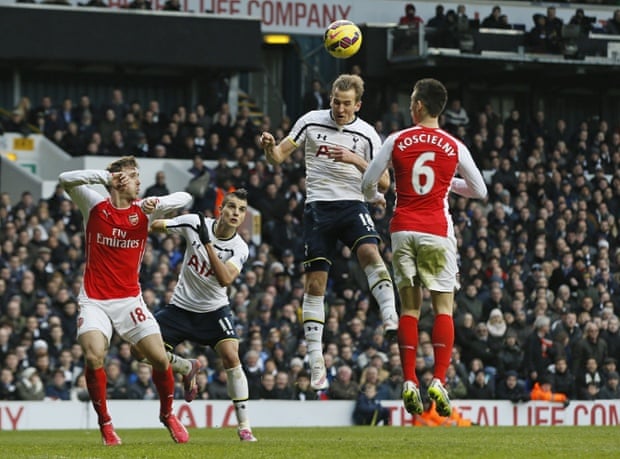 It was the 256th North London derby on Saturday and it was yet again another early away day that Arsene Wenger's Arsenal failed to really get going in, from the first whistle it was clear that the game plan was going to be an attempt to replicate the robbery at the Etihad just a few weeks ago where Arsenal did a job on Manuel Pellegrini's Manchester City, unfortunately this was to be a different story.
Mesut Ozil put Arsenal 1-0 up early on with a first time volley from a miscued Olivier Giroud effort after some good work by Danny Welbeck from the right, the goal was questionably offside but the assistant gave the advantage to the forward and the rest is history. Arsenal progressively dropped deeper and deeper after the goal and invited pressure from Tottenham who failed to convert numerous chances against David Ospina who was looking for a fourth clean sheet in a row.
Tottenham picked up where they left off when they came out for the second half and found themselves level when their former Arsenal youth player Harry Kane capitalised on some poor defensive play from a set piece steering home from close range on 55 minutes. It was now one way traffic and Wenger seemed completely void of a plan B not for the first time in his Arsenal managerial career, he made changes but not til the 68th minute bringing on Tomas Rosicky for the ineffective Santi Cazorla which changed absolutely nothing, the team dynamic was exactly the same something that has happened time and time again. Theo Walcott came on on 78 minutes for Welbeck and it is still unclear why Walcott a player who clearly loves playing Tottenham was sidelined, there was no reports of him being injured and he was one of the standout performers last weekend. Ospina was repelling Tottenham time and time again and the best Arsenal looked like getting was a point, however in the 86th minute many an Arsenal fan's worry came to light. Danny Rose lofted a ball deep in to Arsenal's penalty area and Harry Kane nodded home passed a helpless Ospina. Arsenal looked dejected and out on their feet with very little chance to mount a response, Wenger brought on Chuba Akpom very late on but to no avail and Tottenham took a deserved 3 points.
This latest setback sees Arsenal drop to 6th in the Premier League with just one point behind their local rivals it is nowhere near the end, with many games to go and Arsenal having arguably a favourable run in, but this performance will once again bring in to question Arsene Wenger's "ability" to manage the big occasion.
From the get go yesterday Tottenham were better in every department, they played just as anyone would have expected. Harry Kane led from the front and as with Pochettino's Southampton they put pressure all over the pitch and gave Arsenal players very little time to settle. You do wonder what kind of pre match preparation Wenger puts his players through because apart from the Manchester City triumph they have been found wanting away from home on the big occasion.
I take you back to last season when away humiliations to Liverpool, Chelsea and Manchester City mathematically cost Arsenal their title challenge and admittedly things have improved defensively but that is due to a change in tact that was shown in the win at the Etihad, a win where Arsenal caught Manchester City cold and got them in a tricky period which has seen them lose at home to Middlesbrough and drop points at home to Hull City the same day that Arsenal faltered at White Hart lane.
All is not lost and Arsenal have a perfect opportunity to get back on track come Tuesday when they host Leicester City at the Emirates with three points a necessity with the same token they could see themselves back in the top four that night if results go their way. It is very easy to single out players for Saturdays defeat and especially Ospina but in all honesty that is ludicrous, you don't become a bad keeper over night and the fact is it could have been a lot more had it not been for the Colombian between the posts. After having put in some good performances Per Mertesacker looked like the weak link and I just wonder if playing Gabriel will be going through Wenger's mind. Hector Bellerin didn't have one of his best games but given that was his first North London derby he can be forgiven for that and is still only 19 years of age, let's not shoot down a young player like some of our fans have done previously.
Alexis Sanchez is expected to be back for Tuesday which will more than likely see Ozil back in his favoured no.10 role with Cazorla missing out, Walcott I am certain will start on the right in support of Giroud who struggled at White Hart Lane for one reason and one reason alone, he had no runners from deep so he spent 90 minutes being outnumbered by Tottenham's back four. Francis Coquelin once again put in a good shift as expected and will surely keep his place alongside Aaron Ramsey who seems to still be scratching around for match fitness and form.