With the prospect of Hector Bellerin leaving Arsenal this summer, and only Cedric Soares as a backup for the right-back spot, it is deemed certain that the Gunners will search for a replacement in under ten days when the transfer window opens.
I have looked at five potential players that have been linked with Arsenal recently at right-back. All players have impressed this season for their clubs and would be available at a realistic and negotiable price. As part of the Ligue 1 winning Lille side this campaign, the Turkish defender was linked with rivals Spurs and Everton in the past year but has now impressed more clubs in his standout season with Lille. Çelik likes to attack and get forward more, similar to Kieran Tierney on the left-hand side of the pitch who's pace and ability on the ball makes him a crucial part of the Arsenal backbone recently and for the future. Although the 24-year old's stats seem minimal on paper with three goals and two assists, his contribution to the Lille side and partnership with wingers Jonathan Bamba and Jonathan Ikone has proved the most unstoppable in Ligue 1. Zeki would cost around £10-20 which is quite cheap compared to the other candidates on the list.
Although this rumour has started to die off since Norwich won the Championship which led to promotion to the Premier League, Arsenal could still be in the race for the young English full-back. Reportedly, Norwich has told Max Aarons that he is allowed to leave the club this summer with a lot of clubs competing for his service. The only problem with this is that the Canaries would only accept a fee of £30m or more which makes him one of the more expensive players in this position. However, at 21 years old, Max has played consistently well in the Championship and has had Premier League experience before. He also has the versatility to cover the left-back position which Arsenal has known to lack when suffering injuries to Kieran Tierney this season. His link-up play with another Arsenal target Emiliano Buendia is why he is estimated at the hefty £30m price tag.
The deal for Tariq Lamptey has been a long and complicated rumour between both Brighton & Arsenal. Tariq suffered an injury in March which put him out for the season having only played 11 matches in the Premier League. Brighton had a very poor season, managing to scrape relegation by two spots. The Gunners were scouting the 20-year-old from January-March and the hype has started to disappear while new full-backs enter the scene. However, at such a young age Lamptey still has a lot to prove but when the Seagulls put a £30m value on one of their prized assets, it seemed it was too much for Arteta to gamble on back in January.
This is probably the main name you expected to see when clicking on this article, having seen the very recent rumours in the past days regarding Arsenal's right-back situation. Noussair would be an immense addition to the Arsenal side and at a reported £15m price, it would be a bargain, to say the least. Despite the excitement around this rumour, a flaw that the Ajax full-back has is that he is extremely injury prone. Last season alone, Mazraoui sustained four injuries, three knocks & an eye injury leaving him out of 21 games total. At 24 years old, the Moroccan defender looks like a solid acquisition to the Arsenal side. Although he might not be the most talented name on the list, he is certainly one of the more experienced at his age, having played in both the Europa League and Champions League latter stages. If the medical team can keep his injuries to a minimum, Noussair Mazraoui could thrive at Arsenal.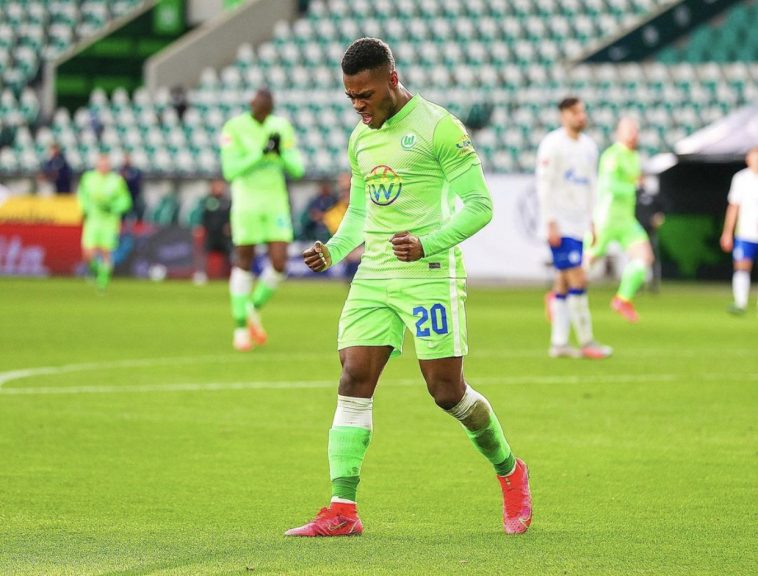 Many Arsenal fans get PTSD from his name, reflective of the horrendous display that we put on in Baku two years ago against Chelsea, but don't let this judge how good of a player Ridle is. At only 23 years old, the German defender helped Wolfsburg to a 4th place finish guaranteeing them Champions League football next season. With six goals and assists in the Bundesliga, Baku outshone many right-backs in the league with his creative and fast runs past the midfield and into the attacking phase. Ridle has played a lot of his career in midfield, which explains why he is so used to making runs towards the attack, but when Oliver Glasner (Wolfsburg manager) realised how good he was defensively having signed him from Mainz in 2020, he moved him to the full-back spot where Baku has adapted very well. With no proper evaluation yet, according to Transfermarkt Baku is worth 19.8 million euros which means if the Gunners were to enter talks, the price could be at a £20-£25m mark. It's not exactly a bargain but it's a young & developing player who has shown great signs in the past season.
Final Thoughts:
With less than ten days to go until the transfer window opens, Arsenal will need to be quick to find a replacement if Hector does leave the club. The right-backs that I have included all show amazing potential and can still develop at their age. All that Gooners can hope now is that Arsenal seals the deal with one of them and that they can help guide us to the Champions League spots that we have missed in the past few seasons.