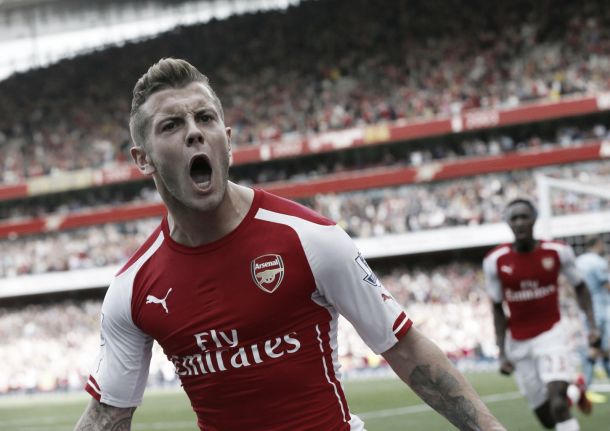 Jack Wilshere will be offered a new five year deal worth £100,000 week, to ward off Manchester City's interest.
Manchester City are looking to bolster their "homegrown" quota in their squad this summer, showing interest in Wilshere, Liverpool's Raheem Sterling and Aston Villa's Fabian Delph.
Wilshere is in fine form going into next season
Wenger will be determined to hold on to Wilshere, who put himself in the shop window with an impressive brace in England's last Euro 16 qualifier, beating Slovenia 3-2.
The victory maintained Roy Hodgson's unbeaten run and was a sign that the talented midfielder was back to his best.
|It is believed that following Manchester City's failed attempts to sign Sterling, after having their latest bid rejected, they will turn their attentions to Wilshere.
Wilshere's future
The Arsenal man has three years left on his current deal, but Wenger is keen to keep hold of Wilshere and is willing to offer him a new five year deal, seeing the midfielder enter the £100,000 a week barrier.
Speaking ahead of England's latest win Wilshere was asked about the rumours surrounding Manchester City's interest.
"I definitely wouldn't go somewhere just because i'm a homegrown player, I'd want to be wanted by a club.
"I've grown up at Arsenal, I'm a homegrown player and, as long as Arsenal want me i'm happy".
Wenger sees Wilshere as a future club captain
Wilshere will start next season with a promise to curb his behaviour, following his FA disciplinary charge for his conduct in Arsenal's FA Cup winners parade.
The passionate midfielder was filmed making a few anti-Tottenham chants which incurred the wrath of the Football Association.
Wenger was less than pleased with the player's conduct and it is understood that he will no longer tolerate this kind of attention, Wilshere is seen as a future Arsenal captain, he will need to lead by example if that is to become reality.
Arsenal fans will be hoping that Wilshere can remain injury-free next season, following two seasons of injury-laden campaigns. Wilshere signed off this season in style with a spectacular volley in the final premier league game of the season, defeating West Bromwich Albion 4-1 at the Emirates.