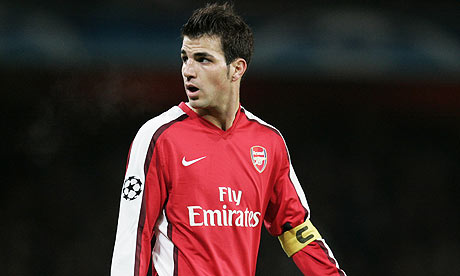 Hi everyone,
Going into this match today many Arsenal fans (including myself) had been wondering whether we could continue our great form which we saw in March today against Manchester City after such a long international break. Boy did we ever! Today saw the return to action of both Cesc Fabregas and Emmanuel Adebayor. Cesc marked his return with a brace of assists while Adebayor returned with a brace of goals. Today also marked the return of Theo Walcott from an ankle injury. Glad to see the players looking so good going into Tuesday's Champions' League bout with Villarreal.
These are just some of my thoughts on the players that stood out the most in the match for me today.
In the first half we controlled play for the most half but Shaun Wright-Phillips had a good time down the flank as Clichy didn't really seem up for today's game. Thankfully though Almunia was alert each time he was called into play by Wright-Phillips. A free kick from the right hand side by Fabregas found it's way to the head of Adebayor and he cooly headed the ball into the back of Shay Given's net to give us the lead. Arsenal were never really in danger of losing the lead afterwards although looked to hit on the counter.
The start of the second half was a rather action packed one as it took Adebayor only 3 minutes to double his tally. Cesc had the ball just at the edge of the area and played a chip inside for Adebayor and he made his way around Given with ease to slot home the second. With that he now has his 14th of the season. I've given Adebayor a bit of stick for his lack of effort in many games this season but today I couldn't accuse him of that. His presence was certainly felt by Given up until the 70th minute when he was subbed.
Theo Walcott is another player deserving of special mention for today's game. He bossed the right hand side of midfield today with his pace. Zabaleta had a hard time keeping up with him and had to resort to fouling him off the ball on a couple of occasions. Walcott would've been my man of the match if not for Fabregas'  brilliant performance. He was constantly running and put some good crosses into the area and had a few shots as well. He was also substituted in the 70th minute by Emmanuel Eboue.
Eboue has gotten a lot of stick for his petulence and wasteful plays earlier this season. I have to say I'm impressed with the way he's turned his season around. He did a lot of running and was active in a lot of our build ups late in the second half. One moment which bears mentioning was when he made his way across the middle of the City half and passed off to Bendtner but Bendtner somehow managed to miss hit his shot and it went embarrassingly wide. After such a great run and a great pass I would've been having a few words with the Dane after the match about his horrible miss.
The win puts us on 58 points with just 7 games to go in the Premiership and at the moment we're 6 points ahead of Villa. Villa haven't had a win in their last 7 or 8 games and I really can't see them breaking out of their bad form tomorrow as they play Manchester United at Old Trafford. If United beats them tomorrow then I think 4th spot is going to be very very hard to pry away from us, with the way we're playing at the moment and the way they're playing.
Anyway, that's enough yapping from me and I'll close with my player ratings for today:
Almunia – 8 Didn't have that much to do but did well all times he was called on
Sagna – 7 Made some great runs forward and assisted the attack well with a few good crosses
Gallas – 7 Did well when called upon
Toure – 8 Great going forward today and kept Robinho and Sturridge quiet
Clichy – 6 The weak link in the backline today. Had a poor first half and showed a few momentary lapses against Wright Phillips and Elano. Had a better second half though
Song – 7 Did well in keeping the City Midfield under control.
Denilson – 8 Made some great tackles today and put together some good passes with Fabregas
Fabregas – 9 Great return for the Spaniard. Had two good assists and controlled the flow of play. My man of the match for today
Walcott – 9 Another good shout for man of the match. Made great runs at the City backline and put great crosses in. Constantly a threat to the City goal
Adebayor – 9 Did well on his return. Bagging two good goals. Unlucky not to get the hattrick today.
Arshavin – 7 Didn't have his usual explosive game but still managed to make a few good passes. Linked up fairly well with Fabregas today
Subs
Eboue – 8 Came on and did very well. Made a lot of good runs and supplied some great passes for Bendtner
Bendtner – 7 Went forward well and was very involved in the Arsenal attack but unfortunately he seemed to have misplaced his scoring boots today
Ramsey – 6 Didn't make enough of an impact on the game but a good effort on his part
Well, fellow Gooners, thanks for reading. I'm off!
For more on today's game as well as other Arsenal related chatter be sure to join our forum at www.arsenalaction.com