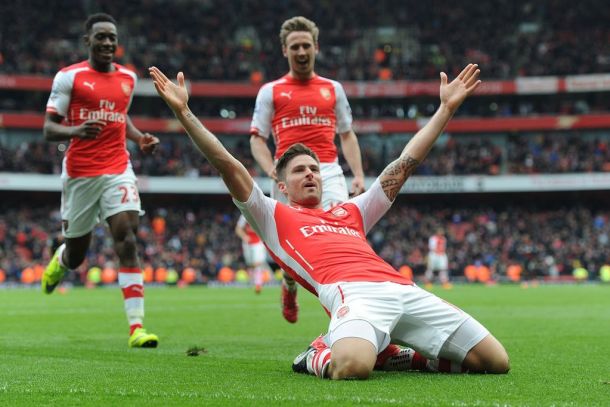 Arsenal made it 7 wins from 7 games as they continued their impressive run of form to add more pressure on the likes of Manchester City and Chelsea in a bid to make a late title charge, but what did we learn from the 4-1 win at the Emirates?
Hector Bellerin is good enough to feature in the big games
The 19 year old Spanish right back has been given the opportunity by Manager Arsene Wenger this season due to the absence of Mathieu Debuchy, he yet again performed well and started the ball rolling on the 4-1 victory at home to Liverpool.
Bellerin is the quickest player at the club but he has so much more to offer than just pace, for such a young defender he already has a bit of everything. On several occasions he dealt with the pace of Liverpool's Raheem Sterling and showed great positional awareness throughout the game.
The Spanish under 21 international did however make a mistake when he brought down Sterling late on in the second half to give the visitors their consolation goal in the form of a Jordan Henderson spot kick, Bellerin has a huge future at the Emirates and is a perfect successor to Debuchy who may be moved on this Summer.
Mesut Ozil continues his progression
Arsenal's £42 million man has started to answer his critics in recent weeks since returning from injury and once more he delivered, scoring a sumptuous free kick from all of 30 yards which left Liverpool keeper Simon Mignolet grasping thin air.
Ozil has the great ability to find space anywhere on the pitch and does a lot of his best work off the ball. It is no coincidence that when the former Madrid man starts Arsenal more often than not perform at a high level and it has especially been the case in the last few weeks.
The importance of Aaron Ramsey
Arsenal's Welsh midfielder scored a good goal for Wales against Israel and continued his good recent form against Liverpool, for a player that is not blessed with great pace he gets all around the pitch with ease and was once more an integral part of Arsenal's success.
Ramsey picked up two assists yesterday and was a contender for man of the match, the Welshman was part of a midfield three with Francis Coquelin and Santi Cazorla which was full of energy and purpose which was something Liverpool could not cope with.
After a difficult start to the season Ramsey appears to have found his form at the right time and could once more be a catalyst for Arsenal's late title charge and their pursuit of retaining the FA Cup.
Francis Coquelin continues to look the real deal
The 23 year old Frenchman has become a bit of a talisman for Arsenal this season, he has added some much needed solidity in front of the back four and yesterday was no different.
Coquelin continues to confound his critics and put in another strong performance against Liverpool, in the first half the visitors found it difficult to penetrate the Arsenal back four and Coquelin was the main reason.
They say Football is a "funny ol' game" in terms of Coquelin's Arsenal career truer words have never been said, were it not for injuries to Mikel Arteta and Mathieu Flamini he would still be on loan at Charlton and who knows the need for a holding midfielder may have been so great that Wenger may have brought in someone in the winter transfer window.
As it happens Coquelin has become one of the first names on the team sheet and it will take something really special to shift him.
Olivier Giroud makes it 10 in 10
Giroud just seems to get better and better and is in fine form, that is now 10 goals in 10 games and 14 goals in 20 Premier League games this season.
It is not just goals that Giroud brings to the team, he is a really good target man and has such a good touch for such a physical player. His hold up player is one of his best attributes and he really benefits from having the likes of Alexis Sanchez and Mesut Ozil around him.
The French striker capped off a great day for Arsenal with a fantastic late goal which has seen Arsenal jump ahead of Manchester City and put Wenger's men late title contenders. Arsenal find themselves just 7 points behind Chelsea who they face on the 26th April.