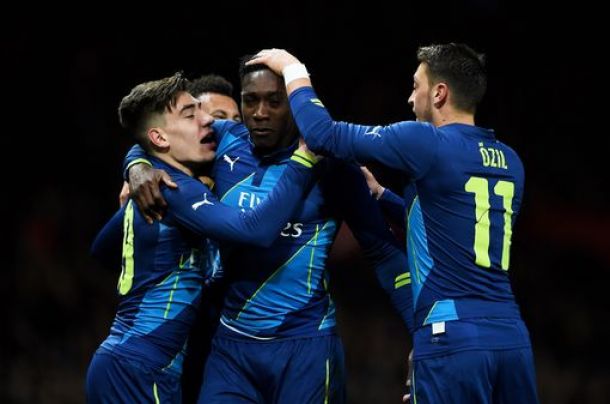 Last nights FA Cup tie at Old Trafford could be yet another turning point in Arsenal's season, it was important for both sides going into the quarter final. For Arsene Wenger it was another opportunity to silence his doubters, it has been leveled at the Arsenal Manager that his side freeze on the big stage and it was chance to prove the critics wrong.
1, Francis Coquelin is key to Arsenal's solidity.
The 23 year old midfielder has impressed this season since being recalled from his Charlton loan spell and was once again combative and shielded the Arsenal back four tirelessly all evening. He kept Maraoune Fellaini relatively quiet which many would have thought would be a thankless task. Coquelin won 10 out of 12 aerial duels with the Belgian midfielder who was playing just behind Wayne Rooney, Coquelin excelled and fully deserved his Man of the Match award.
2, Nacho Monreal continued his impressive progression.
The Spanish left back has played in a variety of positions this season and had to fill in at centre back earlier in the season due to injuries to Per Mertesacker and Laurent Koscielny, this has helped Monreal develop his game and as a result his positional sense has vastly improved. Monreal coped well with the threat of Angel Di Maria and has also added an attacking threat, the former Malaga defender grabbed a deserved goal after 25 minutes following some good work from Alex Oxlade-Chamberlain. Monreal found himself in space and confidently placed his shot beyond David De Gea to give the visitors the lead.
3, Arsene Wenger finally gives in and goes with pace.
With the arrival of Alexis Sanchez and Danny Welbeck in the Summer it was thought that this would bring a positive and quick dynamic to Arsenal's attack but with the good recent form of Olivier Giroud Arsene Wenger had been apprehensive about dropping the Frenchman.
Yesterday was different, Wenger opted for pace and there was good pace throughout the team especially in the wide areas, Hector Bellerin loves to get forward from right back and is officially the quickest player at the club, Sanchez started left as usual with Mesut Ozil in his favoured no.10 role, Alex Oxlade-Chamberlain on the right were in support of former red devil Danny Welbeck a front four that worked perfectly. Louis Van Gaal had no answer to the speed of the Arsenal attack and the visitors caused the home side numerous problems, it could have been a lot more than the eventual 2-1 scoreline.
4, Mesut Ozil continues to work hard
The £42 million man has come in for some undeserved criticism of late although he has been putting in some very crucial performances and he was another cog in the machine yesterday that was functioning well. Cazorla played a lot deeper alongside Francis Coquelin which allowed Ozil space to create and create he did. From the word go Ozil, Sanchez and Oxlade-Chamberlain looked to exploit Manchester United's back four and in Ozil Arsenal have a player that is adept at delivering a pass with pinpoint accuracy if he is given good movement.
5, Danny Welbeck has proved capable of leading the line
It was a perfect day for Danny Welbeck as he capped off a fine Arsenal performance which was about as professional as you get in a cup quarter final. Welbeck latched onto some slack Manchester United defending, rounded De Gea whilst showing great composure to slot home from close range. It had been an indifferent performance up to that point for the England striker, a player that felt that he had to leave a club he has loved since a boy to further his career. Welbeck had been starved of opportunities in a central position recently due to Giroud's good form, he would have been crying out to start at Old Trafford and Wenger granted his wish, Welbeck did not disappoint.
He had a few chances before the goal but fluffed his lines that could be down to the pressure of the occasion, one thing that Welbeck gives you is effort, desire and a willingness to never give up. It is those attributes that have seen Arsenal fans welcome him to the Emirates with open arms, it speaks volumes that many United fans never wanted him to leave, they valued him a lot more than Van Gaal clearly did.
Arsenal return to premier league action this Saturday as they welcome West Ham with Arsenal looking to continue their pursuit of champions Manchester City who remain just 4 points ahead of Wenger's men.